Where to run?
I had planned to run Frankfurt half marathon, it was sold out but had 500 places for people to sign up on the day. To be sure of getting one of those places, I would have to get there at 7am, 3 hours before the 10am start time.  I saw on Saturday on facebook that Jochen was driving straight from Mainz to Kandel to run a half marathon there on Sunday. He was setting off at 8am. I could leave the house 2 hours later, save a few euro and run a new course for me, that seemed like enough reasons for me to run there!
Low confidence
I was not confident going into this one, but needed to see where I am at.  The course should be flat and the weather was perfect for running, little wind and about 9 degrees and cloudy.  Who knows, maybe I'd surprise myself and run a PB!
Running cheap
We arrived a bit later than planned and I only had 15 minutes to sign up. I saw Stephan Jung and asked him where to sign up. He said that a friend of his had signed up but wouldn't run, so I could take him place!  I decided to get my name on the startlist by paying 5€ to swap start places. So I ran for 5€, not bad, especially with getting a T-shirt!
There weren't enough toilets at the start. I mean not even nearly enough. I managed to go once, but would have liked another opportunity. Anyway, I was nervous on the start line but got a clean start and got into a rhythm. I seemed to be running at 3:45-3:47 pace and feeling ok. I managed to lose my energy gel after about 4km. It wouldn't stay in my shorts, I adjusted it a few times, but eventually it fell… annoying.
That 5km marker!
At the 5km marker someone was reading out the times. He read 19:30 as I ran past, WHAT!! I though I would be there at 18:45 or so. I was very depressed and worked out that I was on 1:22 pace or so, but that is after 5km, this could get ugly.  After 7km I confirmed my shitty pace by seeing 26:xx on my watch, but then I looked again a few seconds later and realised it read 24:xx, confusing.
The one marker I felt like I could trust was the 10k marker, it had a timing mat so should be accurate, I crossed at 37:52, actually pretty solid especially considering I wasn't feeling too good and was worried that my time would be about 40mins after 10k.
Hurting on the way back
There is a massive out and back in Kandel, it is about 5k out and 5k back. It is bullet straight and boring as hell!  I passed a triathlete I recognised from Langen after about 13km, just before the turn around.  There were 2 women ahead of me, that is fairly rare nowadays, they were fast.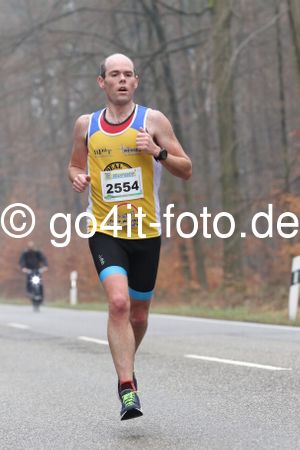 I kept on at it though my pace was unspectacular. My 1:19:30 time that might have been possible after 10k, wasn't going to happen. I was running largely alone and was seeing a lot of 3:50-3:55/km on my watch instead of the required 3:45/km.  The last few km were more interesting than the out and back, I passed the 2nd woman, but was also passed by a few guys. I would say I kicked on to the end, but it was definetely more going out with a whimper than a bang!
Sub 1:20 – not today 🙁
There is 300m on the track at the end, I got into the stadium with 1:19:40 or so on the clock. It really sucked to miss 1:20, I should be cruising that now, I needed to keep on it to get a sub 1:21 though. I managed to get over the line in 1:20:50 – shit.
Jochen had another dreadful race for him, he got into the stadium looking like death, and he ran a 1:32 or so, he is a better runner than that, I hope he finds out what's wrong sooner rather than later.
Operation Save Paris
As for me, I feel like I have over-reached. I did my biggest week ever last week, I had a fairly big week with week. My piriformis is hurting when I sit and it can't be helping when I run. I have 4 weeks until Paris, so I think I will aggressively taper my mileage now, but keep up/increase the quality until the last week. I hope I can save my Paris performance, if I don't PB (and I'm not ill), then I am done with marathons, you have that in writing Katja!