The first big event I've done in ages, RVV was finally going to happen. Adrian had said last year that he really wants to do it, and I said straight away that if he does, I'll ride it with him. Only later did I decide to do a marathon, which happens to be 8 days after the ride, but RVV shouldn't be too tough, so it'd be fine……
I flew to Brussels from Munich and unpacked my bike bag and left it at the airport so I could stay mobile all weekend, Adrian picked me up at the airport. We went straight to Oudenaarde to get our start number, my T shirt and finisher medal, a bit weird!
We were staying in Ghent, which is 25km from Oudenaarde, we thought we'd get the train to the start, but were pretty worried that the bike places would be full and we wouldn't be allowed to travel. We were planning on getting to Oudenaarde at 8:30 and we had to start by 9am, so it would be a bit tight if we couldn't get the train.
Everything worked out though, the train was jammed with bikes, but we were allowed on. We got straight to the start and set off. There were a lot of people on course, I worried it was going to be a case of us crawling around for 144km, we even waiting in a queue to go around a tight corner after a few km!
In the first 30km there were a shitload of cobbles! I've never ridden cobbles before and pretty much hated them immediately. My bottle holder shook loose on the first cobbled section and I stopped to fix it. My multitool fell apart in my hand, so I just chucked the bottle holder and put the bottle in my back pocket.
On the next cobbled section, my GPS shook loose and fell on the road, that went in the back pocket too.
It was about 0°C and windy at the start, I was dressed nice and warm. I had a long arm top, then a baselayer, then a long arm jersey, then my warm jacket! I also had my leg warmers (which constantly fell down) and heat pads on my toes, along with neoprene overshoes. I was warm enough when we were riding, but still cold when we stopped or descended!
On the first cobbled climb of the day, I dropped my chain at the bottom and it jammed behind the cassette, I could fix it but it took a while. I had the best click in of my life to get going again just as the gradient kicked up.
Adrian was riding well and had waited after my many mishaps at the start but soon was getting ahead of me on the climbs too. I was luckily faster on the descents and more technical sections (not cobbles) so we could still ride together.
I could feel that my legs were getting tired way before the end of the ride and I also was a little hungry going into the 2nd food stop after about 78km. I ate a bit of cake, 2 waffles and a gel and was good to go. Almost straight away we hit the Koppenberg, maybe the hardest climb of the day. It was damned hard, over 20% and cobbles, luckily it wasn't too long and I never felt in trouble, even though I was crawling, my main worry was that someone would stop in front of me, which they luckily didn't.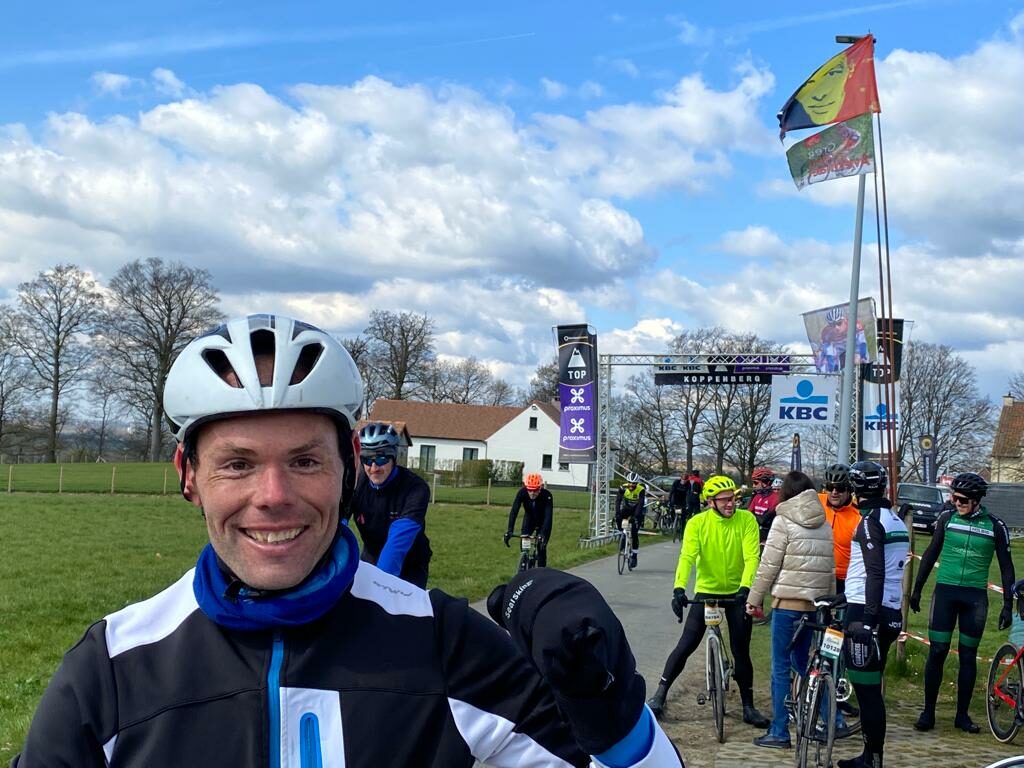 On we went, my bike had stopped falling apart (my cross bike btw) but my gears were pretty jumpy, I was having some problems using my bottom gear, even though I really needed it.
Adrian was generally getting away from me on the climbs and cobbled sections now, I still felt generally fine, but my climbing legs were done. As soon as the climb was done, I could speed up and kick on again though.
The rest of the ride kind of passed by and soon came the famous last 2 climbs, the Oude Kwaremont and the Paterberg. The Oude Kwaremont started on road but changes into cobbles. By this point I hated cobbled so much and just wanted to survive the climb. I was looking out for the church at the top but couldn't see it (it's on the Muur, not the Oude Kwaremont!).
I was waiting for the steep bit to come, but it didn't, the climb is more of a bad cobbled section than a hard climb really, if it was asphalt, it would be a breeze.
So on we went to the final climb, the Paterberg. It's supposed to be a bitch, but when we got there, it really wasn't so bad. It is steep and it is cobbled but it is also very short. It felt like it was over before it began and the climbs were over, it was time to get the head down and do the last 14km to the finish.
Adrian had been putting ever more time into me on the climbs and led on the way to the finish. There was a big headwind, so I tried to take the lead a bit. Soon we were in the last 5km and I was on the front, I felt like I was riding through treacle, I could come to a stop! With only about 1.5km to go, I looked back and saw that Adrian had dropped, I guess he wasn't cruising as much as I had assumed. I waited and we rode the bolt straight last 1km to the finish. I considered doing the Gilbert stop and bike pick up, but decided against it with so much traffic.
It was over, I didn't much enjoy the ride, but I am happy to have done it. I will watch the pro races with a new respect in the future, how they race up the Koppenberg and others is beyond me! I would quite like to try again with some more bike fitness, but I'd also like to never ride cobbles again, so I'm not sure.
As long as I didn't catch Corona at the ride or afterwards, I don't think it hurt my marathon too much. I currently have a bit of a cold* on the Wednesday after the ride, but if that clears, I'm good to go on Sunday, the weather forecast looks great, I'm scared, please let me be 100% fit and I'll break 2:50.