So not much has happened since my last race, I raced another 10k in March 2020, it wasn't great but I had excuses, then everything got cancelled because of Corona. My marathon was off, Parkrun was and still is called off and every other race going was done too.
I decided to try to stay fit and get in shape for a 5k later in the year (wouldn't have been possible, but whatever) then I injured my achilles. I'd been having issues with my achilles for a while, but this was something different, this was a real injury – a partial tear.
After a few days I could walk without limping, but it just didn't get better. I could run, but only with extreme pain in the following night. I tried some short runs and even ran about 16k quite fast once while supporting Alex run a marathon in Tempelhof, but my running was basically over for 2020.
We moved to Bayern near the mountains in mid February 2021 and we did a few hikes and lots of walking. I decided after about 9 months of not being able to run, to give it another go. After a 6km run all was okay, but the real test was in the night afterwards. I woke up the day after – and everything was fine! I could run again! My achilles still feels a little sore to the touch, but it works for running.
So, with no races happening in 2021 either, I decided to try some trail running here in the mountains. I'm not very fit at the moment and a few kg heavier than I should be, but it's been fun so far! I am getting used to walking up steep gradients, I basically have no other option most of the time around here, when the paths are uneven and 20% steep.
So today I set out and wanted to run up the Rabenkopf. Its a 1550m high mountain (starting at about 600m in the valley) that starts 6km from where we are staying in Bichl. I ran to the start and hit the climb after a quick dixie break. Pretty damn quickly I was walking, but could jog sections. The climb is only 5.5km but with 900m climbing. The 1st km was done in 8 mins, all good I thought. The next part was also fine, I briefly took a wrong turn, I somehow missed the slightly trodden 20cm wide path that went off to the left!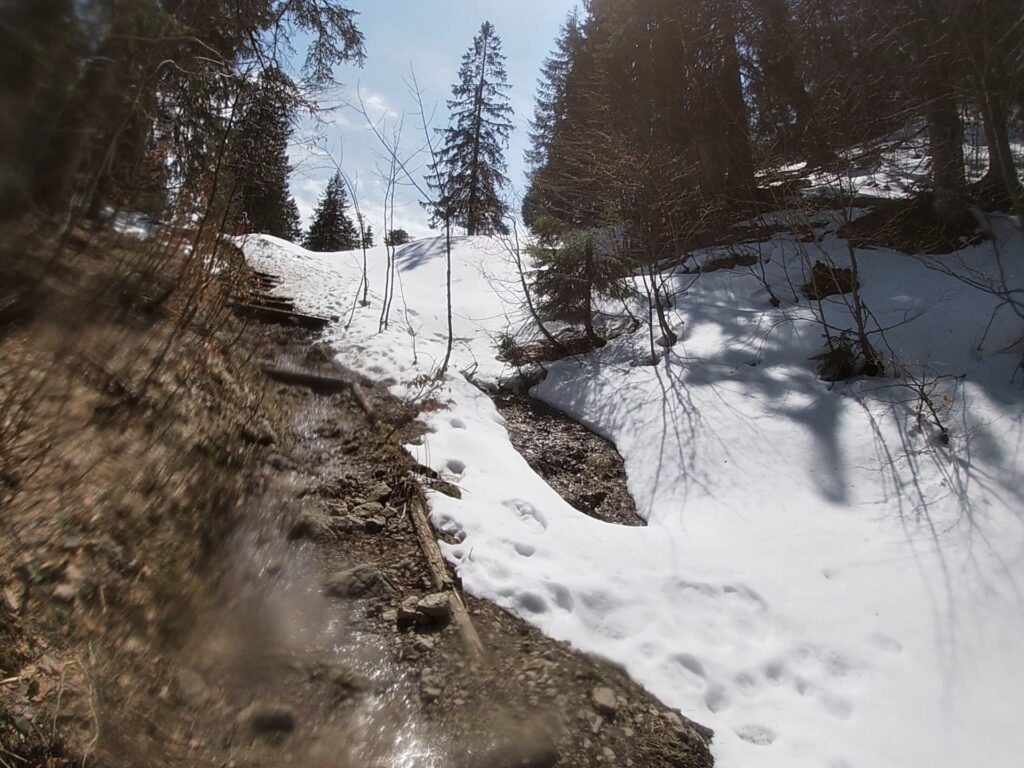 Soon came an unexected flat section which I ran until I got to a hut. I looked to the right – fuck – did I have to go up there! I almost turned back immediately, it looked steep and getting progressively steeper, as well as being covered in snow at the top!
I set off anyway and apart from a few little slips and slides, it wals fine. I did lose my footing on a narrow section which gave me cause for thought, but nothing came of it. Soon I came to a cross and a plateau, I knew it wasn't the top, but I thought it probably wan't that much further to the top.
I asked someone coming down if that was the way to the Rabenkopf, they said yes, so off I went. There were plenty of sections where I had my hand down to help with getting up rocks or over roots. There were also at least two exposed parts where the wind hit and it was icy, I won't lie, I was scared on those bits. I was overtaking a lot of people though and I felt calmed by the fact that some fairly old people were coming down the mountain, if they could do it…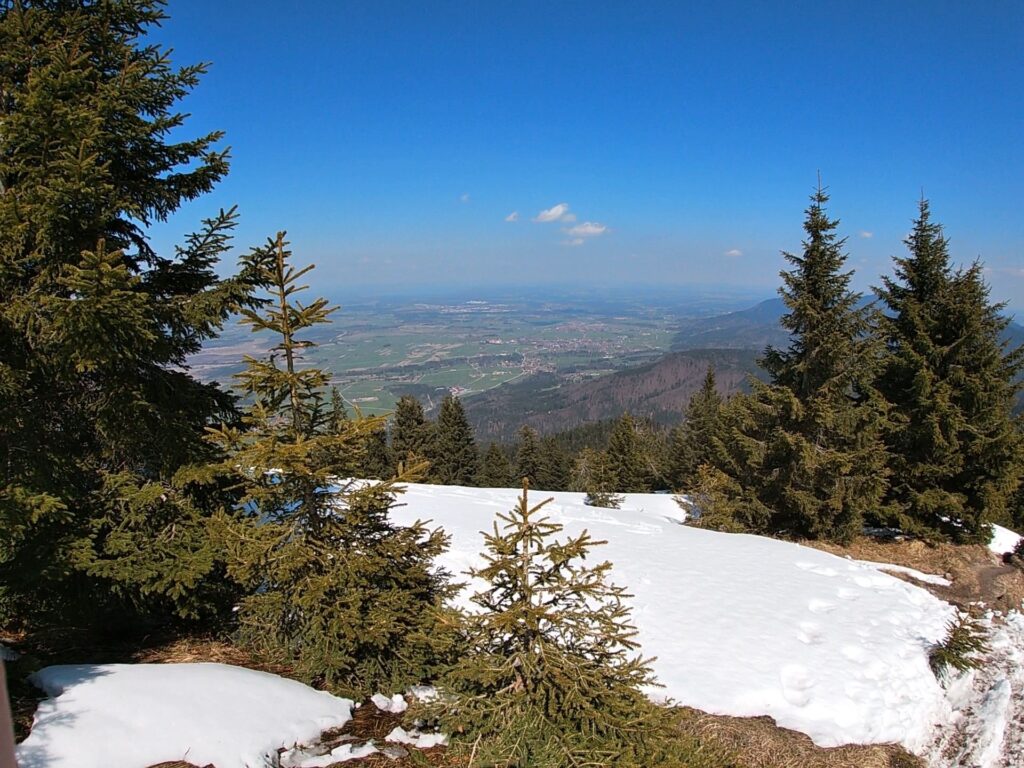 I got to the top of the Schwarzeck and the view was great down into the valley, I mean I could see Roche off in the distance even thought it's 20km away! The view to the Rabenkopf scared my though, I had to go down a little, then it looked very narrow and steep to the top. I hardly even considered it, I turned straight back the way I came (Mistake – I could have taken the easier other way down)
Going down steep, narrow exposed icy paths aren't my speciality apparently. I fell on my arse at least 3 times, the rest of the time I was hanging onto trees and branches for dear life! Only after getting back to the hut was I back in the clear. I decided to take the MTB route back down so it would be runnable. After that it was all easy going, I mean it would have been if I wasn't knackered, but I was safe, just tired.
I got home after 23.5km in 3h08. If you consider that I ran there and back (12.5k) in just over 1h, it means the other 11k on the mountain were done at 5.5km/h!
So – my conclusion – I like this kind of adventure running but should probably wait until the routes are free of snow. I think it would have been fine if there was no snow today. I have to get used to being underway longer than I normally would be. 3h08 is a long time, but I still 'only' did 950m of climbing. I fancy running up some bigger stuff or doing a few peaks some time in the future, so that'll take a while longer!
I hadn't blogged in over a year, and I am back to running and races aren't coming back anytime soon, so I thought I'd check in. Actually it was that I read my old Liege Bastogne Liege repost a couple of day ago that made me want to blog again, so here I am. I am going to try to run the peaks of the Gipfel Cup in the coming months, I may blog my progress…