I signed up for this on a bit of a whim last year, when Alex said that he was doing the 69km Supertrail. I didn't fancy that, but the basetrail XL at about 50km with 1660m of climbing sounded challenging enough. Originally it was on when I was planning on being in England, but it was postponed by 1 month due to the G7 meeting nearby, so I signed up.
Unfortunately on June 1st I got Corona, had symptoms and stuff but felt ok soon enough. Then I started noticing that I wasn't breathing so well, or sleeping well. Training hasn't been going well since then and I certainly haven't been hitting my weight loss goals either! So I went to the start not expecting a lot, but thinking I'd be fine anyway.
So on the day I got to Garmisch and eventually found a parking space before getting on the shuttle bus to the start in Leutasch. The bus got in at 7:40 for a 9am start, I still needed to go to the toilet, check in my bag and have my rucksack checked for the mandatory equipment, but I had loads of time…
The toilet queue was 40 minutes long! I had a chat with some of the other queuers about training and stuff, but it was crazy that there were only 3 toilet stalls for nearly 600 guys. Anyway, job done and then the rest went quickly. At 9am I was ready to go and we started to the sound of Highway to Hell, just like in Mainz marathon.
The Start – Climbing
The start goes up a bit ass mountain, it's around 950m uphill and we'd reach the peak after about 8km. The first km was flat, then the next and the next! Soon it started going uphill gently and I started to walk parts, I thought it was well worth saving energy now for later, I expected to be out for 5h30 altogether.
It started getting steep soon enough and everyone was walking. I was impressed with how fast some people go uphill, I guess they weigh less than me but anyway, impressive. The last 250m of climbing after the hutte started to bite a little and some people passed me, soon enough it was over though and I was ready to descend.
Part 2 – The descent
My shoes were a bit loose and I have been having problems with blisters when running downhill in the Speedgoat 5s, so I stopped to do up my left shoe a bit tighter. The downhill was steep and on loose gravel at the top, some people descent like mentalists! I almost fell once and others were way out of control on occasion. After the steepest part, it got a bit better but people were passing me right and left. I must have lost 25 places.
I was very happy when the more technical descent was finally over and it flipped almost immediately from me being passed constantly, to me passing others constantly! I took my time at the first aid station before setting off on the next section, which was pretty flat.
Part 3 – Flat
I was still catching people but trying to go easy, I was doing just under 5 minute per km, so not motoring. The sun and temperature was an issue though, and that I still had about 35km to go, so I was happy to just keep rolling.  It was nice running for a while, then soon there was another little climb which was runnable, before a really nice fast downhill.
There was a sign for the next aid station in 500m, but then it started going steeply uphill on a road, then in the forest, that 500m probably took over 7 minutes, bit of a shit sign really!  I drank some more but immediately started feeling not great. My stomach was hurting, I was hoping I'd be able to keep everything down.
Part 4 – The lows
The next while seemed to be steeper uphill which I walked pretty slowly. Some passed me but I didn't care. When I reached the top, I was looking forward to a downhill, but that didn't happen! It just kind of rolled up and down, but in a completely useless way for me. I couldn't run up the steep hill or down the steep hill, so it was just slow going all round.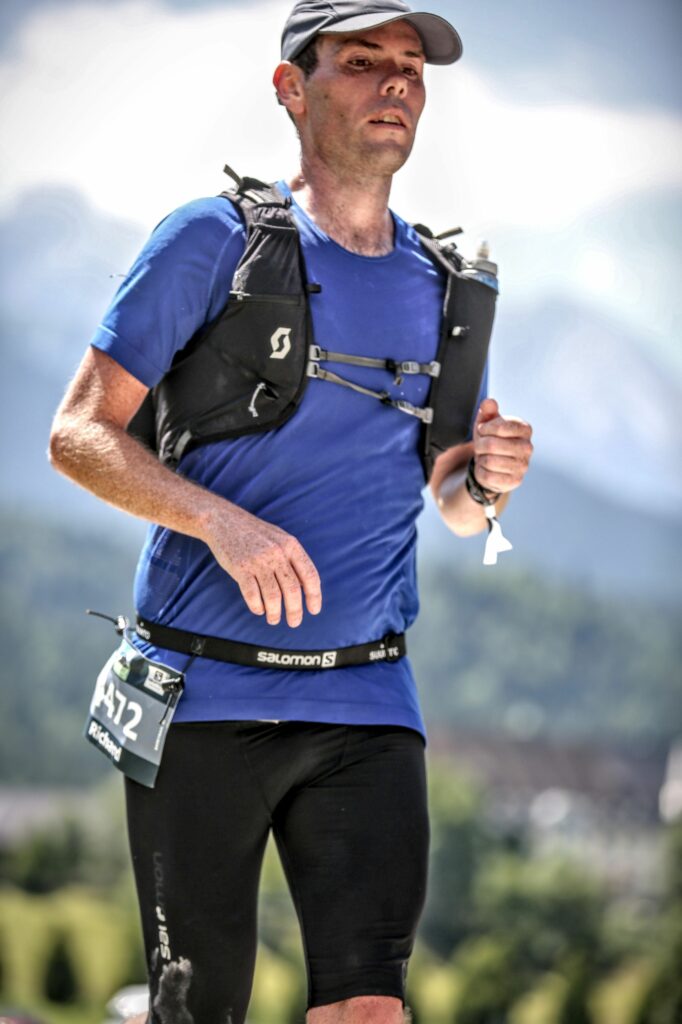 My stomach still wasn't happy, but at the end of the rollers after about 31km came a beautiful lake, I was very impressed, especially that it wasn't very busy there. We'll be going to visit some time soon.
Apart from the lake, I hated all of this part. It felt like the uphills were often long and more gentle (6-10%) but I was in no state to run them, but the downhills were 20%+ also unrunnable for me, just shit, all shit!
Part 5 – Cola to the rescue!
The next aid station came after another fairly useless technical descent, there was about 13.5km to go, I knew there was a hill, but thought it was short, followed by a nice fast descent into Garmisch in the last 10k, I was wrong.
I took on lots of cola which really seemed to get me going again. There was a cheer point which was cool, someone sponged my head and lots of people were cheering, it was awesome. But then came the steep ass hill.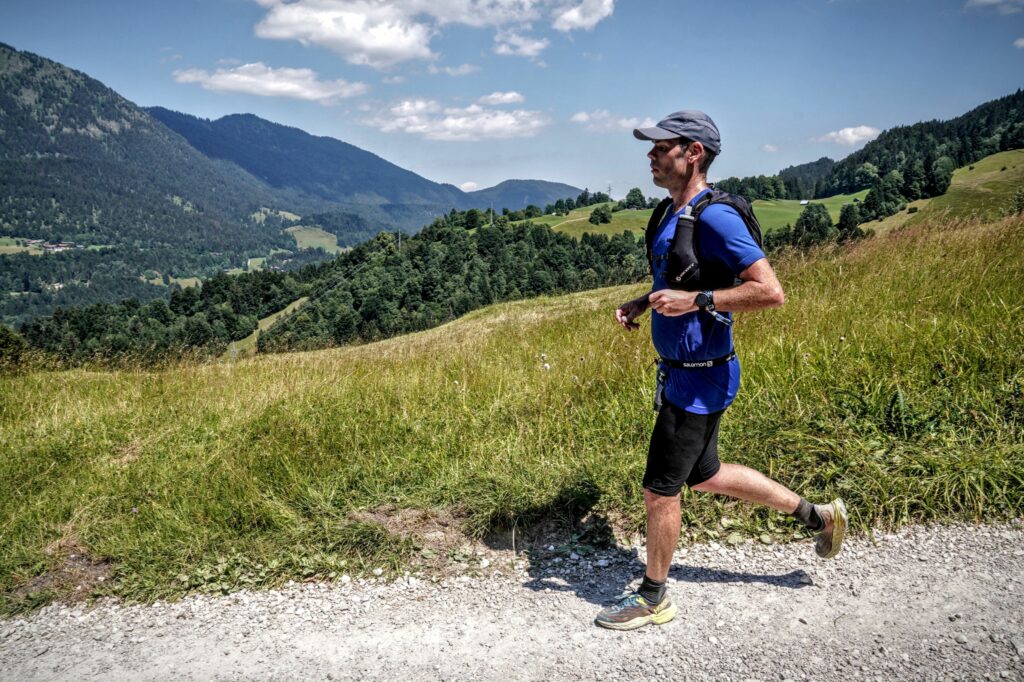 I was struggling to walk parts of it, but at least that meant it had to be short. Well the consistent climbing part was short, but the rolling useless terrain continued on for the next few km. At least I was feeling better so could run more of the slight uphills now.
Part 6 – Roll to the end
The last aid station came at the last little kick in the teeth roller and they told us it was all downhill from here. There was also only about 7km to go, so it could go quick if the path was nice and runnable.  Unfortunately large parts were very steep, like quads destroyingly steep. I felt like I was sloooow here, but no one passed me.
To start with though there was a little slat bit next to the ski lift exit where loads of women dressed in dirndls made a shoot where they cheered on the runners, it was also a nice morale lift.
On the downhill, Katja sent me a couple of messages asking me where I was and if I was ok. I took this opportunity to put in my headphones and send her a message, then listen to music for the last few km.
When it flattened out, my legs felt shockingly good. I kicked on feeling like I could finish strong, I was also quickly aware that it was warm and sunny again. I passed someone, the first person I had seen since the last aid station, he gave me a fist bump, then I headed into the last 2km, knowing the job was done.
In Garmisch the route is pretty shitty. It goes along a little path next to the train station, then under a long bridge, up some stairs, across to the other side, down some stairs and back under the long bridge! Anyway, there was a few hundred metres to go when I could finally get onto flat asphalt and enjoy the finish line run in. Off came the cap, hands in the air and celebrate that it was finally all over in 5h44!
The End
It was a very hard day for me, I am in no way trained for a near 50km mountain run at the moment. I had guessed that I would need about 5h30, but I had also hoped that more of the downhills would be good for some 4 minute Ks, they were not.  I felt like I had done a fairly poor job all in, but my result was 41st from just under 600 runners, so it wasn't dreadful, just not as good as I'd hope for.
During parts 2 and 4 (the descent and the lows) I had decided that I wasn't doing this sort of shit again, but already by the time I crossed the line I was thinking that I could try this again next year. I am too heavy to be great uphill (I could and should lose weight), I am also poor technically on the downhills. I think next year though, those 2 things could be improved upon. That along with some better training and better health leading into the race, I think 5h flat would be doable.
I'm not saying I will definitely do it again, I'm saying I might.
The messages I got hours later from a here unnamed Supertrail runner make me think that it might not be fun to go much longer than what I did here!
Next up:
My autumn plan is the Tegernsee Half marathon and the Munich Half marathon. Munich would be a solid attempt at a PB. I need to get myself fit and healthy again though. I ran a 17:29 km Parkrun shortly before getting corona, I seem to have lost at least a minute since then, it's a bit depressing. Well long COVID isn't eternal COVID, so hopefully I'll be back on form again soon.
and when I am, I'll see you again here!