1 week after the first instalment came the 2nd instalment of the BSV Winterlaufserien. Last week was interesting and I was happy with my run, I was hoping for more of the same this week.
An equivalent run to my 10km time from last week over 15km would be 57:30, but I was aiming for sub 57 as I weighed in at 79.7kg instead of 81.1kg last week. My week of training was good, my Achilles feels a bit better and my only fear was that my 21min 5k Parkrun the day before might have been too fast and left my legs slightly tired.
Unfortunately, Lukas, who was faster of me last week, had a cold this week but started anyway. He didn't seem too confident!! Everyone else who ran well last week was on the start line again.
We set off and I ran with Carsten from the get-go, our pace was good and were even with Gray for a while, who ran a sub35 last week, but it turned out he was doing a progression run this week.
I had worked out that the pace for 57:00 was 8:41 per lap, so that was my aim for the first laps. We passed the first lap in 8:36 and I was feeling good, but it was still early. After 2 laps me and Carsten were still dead on pace and I had seen that Christoph wasn't too far behind us. (you can see him behind in the video below)
Nearing the end of the 3rd lap, I had the feeling that Carsten was fading and I was taking the lead, it was a shame, I wanted to run with people again this week, almost as soon as I had thought that, I heard someone catch us from behind – it was Christoph!
We went off together passing the halfway mark and soon enough the 10k (on my GPS) in 37:30. After another lap of pushing each other, Christoph started to open up a few metres gap on me, I didn't feel like I could go with him.
I knew that after 6 laps my time should end with :06 seconds as it was 8:41 per lap for 57 minute pace, but I saw :18, so I was 12 seconds or so down with 1.25km to run.
I wasn't dead yet though and I tried to pick up the pace for the last km. As I entered the stadium with 300m to go, I could give it another kick, even though I had convinced myself that sub57 was in the bag. It started getting a bit tight at the end and I needed a good sprint to finish with 56:58 on my watch, so I hit my goal time by the skin of my teeth!
Christoph was 15 seconds faster and Carsten ran about 58:00 and Lukas battled it round for a 58:15, that must have been tough with a cold! That means that the series standing must be pretty tight between us 4 still, I reckon I have 20 seconds on Christoph, 55 seconds on Carsten and 65 seconds on Lukas. Strangely our order of finish was the exact opposite this week to last week!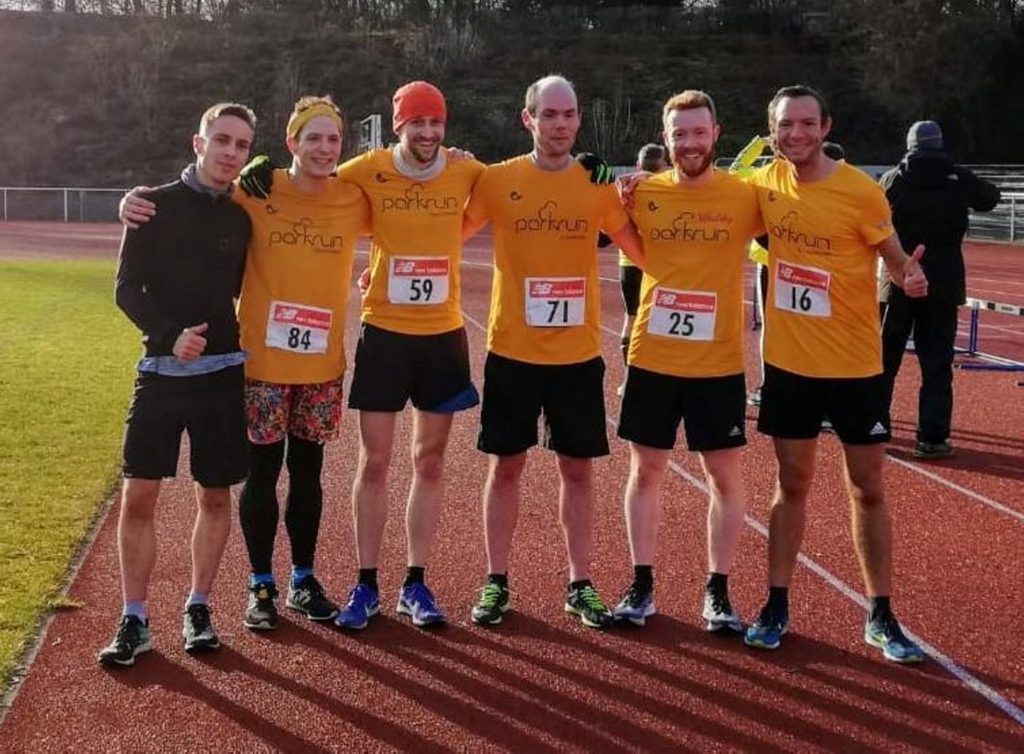 So next week is a rest week in the series, then comes the half marathon. I will be aiming for a 1:21 assuming that all goes well until then. Whatever I run, I'd like to be first from our little group if possible, but it's still all to play for 🙂