The Wörrstadt Time Trial has been on my radar for a while now. I rode it in 2015 and was pretty happy with my time and effort. I was hoping to be able to better that time. Maybe by over a minute, even if that only comes from a better fit and set-up.
Silly o' clock
I got up early and rode to Wörrstadt at 7am, so that I would be there before the first riders set off at 8am, and in good time for my 8:26 start time.  In 2015 I started very early on, overtook lots of people and wasn't overtaken.  This year I was in the middle of a tough group. The 2 people before me were very good riders, and there were plenty of good riders just behind me too.
I used my new HED Disc for the first time in ernst for the time trial, but I bottled out of using the latex tubes, I was too scared of having a blow out and crashing.  My legs were tired and still a bit sore/injured from the Mainz half marathon last weekend, but I still felt like I would be able to put out my power when push came to shove.
Garmin started, and away we go.
I set off, and didn't forget to start my Garmin this time!  The course starts off downhill and with the wind this year. A guy who had missed his start came past me like I was staying still after about 4 minutes!  I overtook him on an uphill, but as soon as it went back down, he came by again.  This continued a few times until he dropped me after the climb out of Nierstein.
Marcus Jores had started 30 seconds before me, but I wasn't catching him.  I was worried that Völker might catch me from 30 seconds behind, but I seemed to be staying away from him.  The ride was pretty uneventful overall. I was overtaken by 2 more people, and basically only overtook people who were on road bikes!
Falling behind
The last few km are uphill and my average speed started to fall. I knew that I averaged 38.1km/h last time, so as my average fell to 38.0km/h just before the end, I knew it hadn't gone to plan.
I crossed the line in 1:08:47, about 40 seconds slower than last time. My wattage was 26watts lower than 2 years ago too.  Unfortunately Sebi took the race as a training ride, Christoph Z had an accident (he was fine, his bike wasn't) so I only had Stephan Jung as a real comparison for me.  He was 50 seconds faster than me, but said he had a good ride.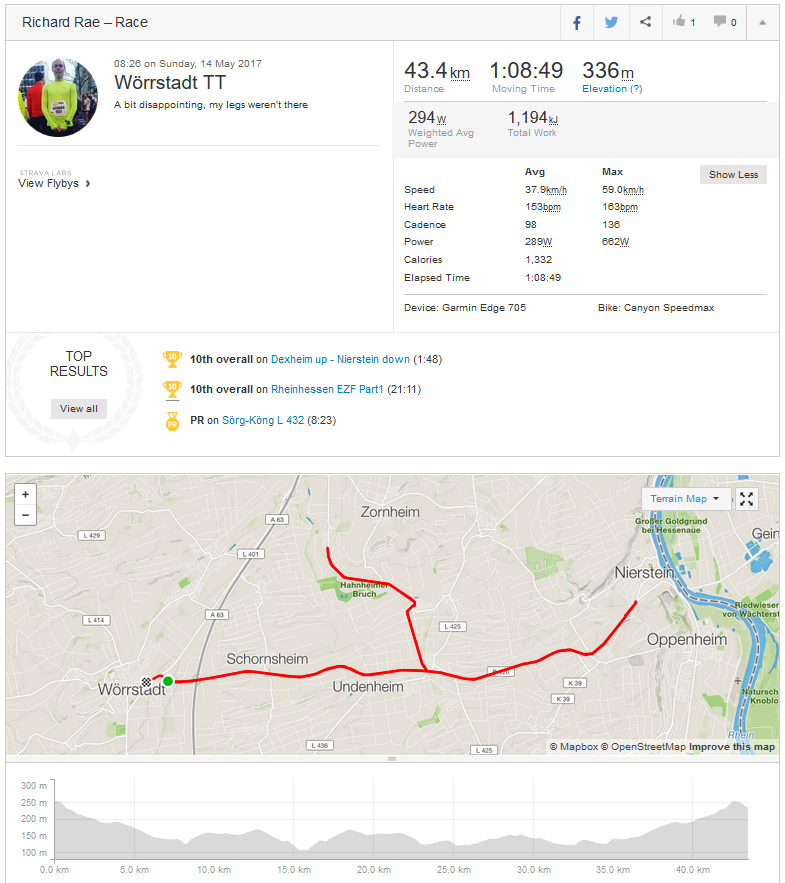 Conclusion/excuses
So, what to say.  In 2015 the Time Trial was 2 weeks later in the year, and I was finishing up my 1800k in May challenge.  In 2017 I have only ridden my TT bike for 1 week or so, so hopefully that explains why I couldn't put out my power.  My heart rate was 10 bpm lower this year, I just couldn't use my fitness to go faster!
I think cycling should be my main priority from now until Roth. My running is fine, my swimming has got much better, but my cycling needs to a) get better and b) more comfortable in aero.
Photos should follow.