Coming into week 9 I am feeling better than I was last week. My calves are still a bit sore, mainly my right calf, so I will be careful with faster running.  I have 18.5h planned this week, ending on Sunday with a sprint triathlon in Gimbsheim. I may or may not go to Langen on Thursday for the Swim nights, I can imagine that the water is cold, but some open water swimming experience would probably be a good thing.
Monday
I cycled to swimming, swam and cycled home. It was light when I left the pool for the first time ever!  We did lots of backstroke and some 100% sprints. I am slow at sprinting, but find them okay anyway.
400m in. 2×150 flippers, 8x50m drills, 20m, 25m, 30m, 25m 25m from middle of the pool sprints (200m total), 100m easy, 300m easy back and crawl, repeat of earlier sprints 200m total, 400m out.
Tuesday
I was dead hungy after work, but ate a banana and ran for 1h15. My right calf is still a bit injured, so I didn't do specific intervals, just a bit of a hilly run.  It was really warm, probably only 26degrees but not a cloud in slight. I felt good after getting going and ran my 1h15 at a fairly relaxed 4:50 pace.
Wednesday
Katja was working in the evening, so I thought I should run before work, so that I could cycle a bit longer after work.  I ran in 45mins easy for 9km, all fine.
After work I wasn't feeling very motivated. After eating far too much and falling asleep a few times, I went out and rode my TT bike for just over 90 minutes.  I felt like I was riding ok after a while. I did lose the rubber caps from my BTA water bottle, so had to roll around the industrial estate to find them again (I did).
Thursday
I was pretty tired after Katja got in late from work, I struggled to sleep before she got home and couldn't get back to sleep for a while after.  Anyway, it was swimming day.  I went to our normal swim training and the lane was fairly empty.  I felt pretty good. The main set was 20×50, I was doing the crawl 50s on 1:05, so 50 seconds with 15 seconds rest. That was a fairly easy pace for me.
400m in, 6x50m strange drills, 4×50 kicking drills, 20×50 every 5th backstroke, 100m easy, 6x100m on 2mins, 300m flippers IM, 300m flippers crawl, 100m out. 3300m?
Friday
I'm not mentioning my weight as often now, as I seem to have stalled. I was 76,7kg this morning. my diet isn't going as well as before, but my weight fluctuates like crazy anyway.
To save some time and hopefully help my race on Sunday, I did my long run straight after work. It was 2h walk run. I took it easy and did a loop over in Bodenheim. It was just over 24km at the end, my HR belt didn't work, but I bet it was 13xbpm.
Saturday
With some time in the bag, I decided just to ride on Saturday.  I went for a Worms loop, which I know is about 120km, so should be about the 4h I wanted.  My main aim was to stay in aero all the time, I need to get used to it asap.  It was a cross/head wind on the way there, and a cross/tail wind on the way back. After strugling at about 32kp/h on the flats on the way to Worms, I enjoyed the 36+km/h on the way back.  It was all a bit uneventful, I got stopped at lots of traffic lights and in Worms and Mainz it was a nightmare, but otherwise it was job done, with a 227w NP, about my Roth race effort.
Sunday
I slept dreadfully for about 6h, getting up to pee 4 times having eaten too much and apparently drunk too much too!  I cycled to Gau-Bischofsheim to meet up with Michael G, we rode to Gimbsheim which was a bit further away than expected. Once there I only had time for a 4 minute warm up jog and a 100m swim!  The race report is here.
After the race we cycled back the way we came to Mainz.  It was another 1h15 in the bag.  I am having some trouble controlling my TT bike on descents with turns, I almost binned it in Schwabsburg, but held it together.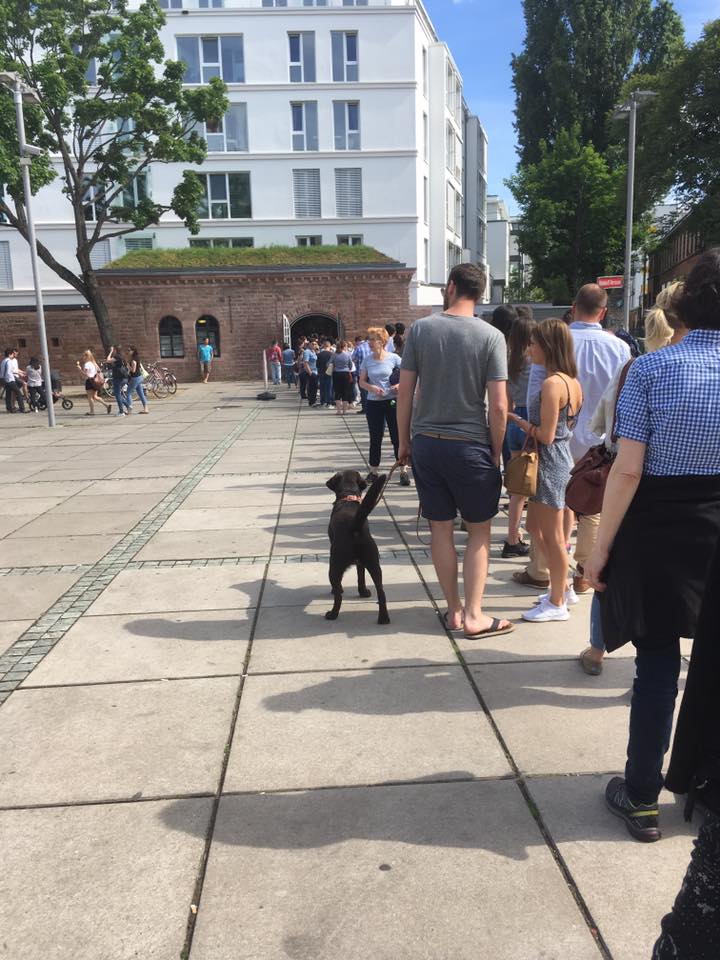 After a burger, chips and ice cream in town, I slept a little before going for a little run to end the week.  I wanted to run 43 minutes so that I had my 18.5h for the week, but after 40 mins it was decision time, run 43 with dirty pants, or 40 minutes with clean pants. I ran for 40 minutes.
Overview
So I ended the week with 18h27. It was a good week all round with over 6.5km swimming, >300km riding and >60km running.  My diet wasn't great, I will try to get back onto that to get to 75kg.  I need to string together some good sleeps, I am tired and my 6am alarm on Sunday morning hasn't helped.
I have 4 weeks until my next race anyway, and lots of bank holidays coming up, so I am confident I can survive my last 4 weeks of big training before Roth!