I have heard a lot of times that getting a Radbiometrie is well worth while. The watts/€ metric always seems to point to a good bike fit being worth much more than deep rim wheels, and aerohelmet or a better bike.
I have always held back from getting a fitting done. I mean it costs 159€ so that someone moves your saddle a bit up/down and a makes a few other changes! This season though, I have had the feeling that I haven't been able to put out my wattage very well on my TT bike, compared to my road bike.
Machacek Radbiometrie
I had been told that Machacek in Bad Soden is a good place to get a Radbiometrie. A look on their website shows that they have fit a lot of pro cyclists and triathletes, so I would be in pretty good company. I tried to get an appointment in September, but could only get something during the week. In November I managed to get a weekend appointment, either 7am on Saturday the 19th, or 7am on Saturday 26th!
So on Saturday 19th of November I got up at 5am and cycled 10k to get 2 trains, to get to Bad Soden by 7am. We got started with a hip measurement. He was surprised that I don't have back problems as my hips are uneven by 6mm. Then I stood and he said I put my weight on the outside of my feet, where they are weakest. Not a great start!
Soon I was covered in stickers and on the bike. He showed that I move my legs out when they go up. That's because I am fighting my body and there isn't space for my legs to go, when my hips are lying flat. Pressure pads in my shoes showed that I exert pressure through the outside of my foot too, as well as having too much ankle movement and sometimes pushing against myself on the upstroke.
The funny part of the radbiometrie was when he looked at me as I sat in aero position. His first question was: did you fit yourself? He said it was awful. Everything pushed my hips down and put more pressure on my arms and shoulders. He said I hardly sat on my saddle and it was leaning forward. I also had a bit of a praying mantis aerobar position, apparently also putting pressure on my arms.
The changes
So to try to fix these problems, he moved my saddle forward by 3.5cm and up by 2cm. He moved my aerobars back 2.5cm and up by 1.5cm, so I would be 6cm shorter altogether and a bit higher. Only one of my cleats needed to be changed. That should move as much pressure as possible on to the inside of my foot.
The Radbiometrie result felt very different but definitely easier on my arms. That's always been my biggest problem with being in aero position. I also have some stretches to do, so that I can open up my hips which will result in me fighting against my body less than I do now.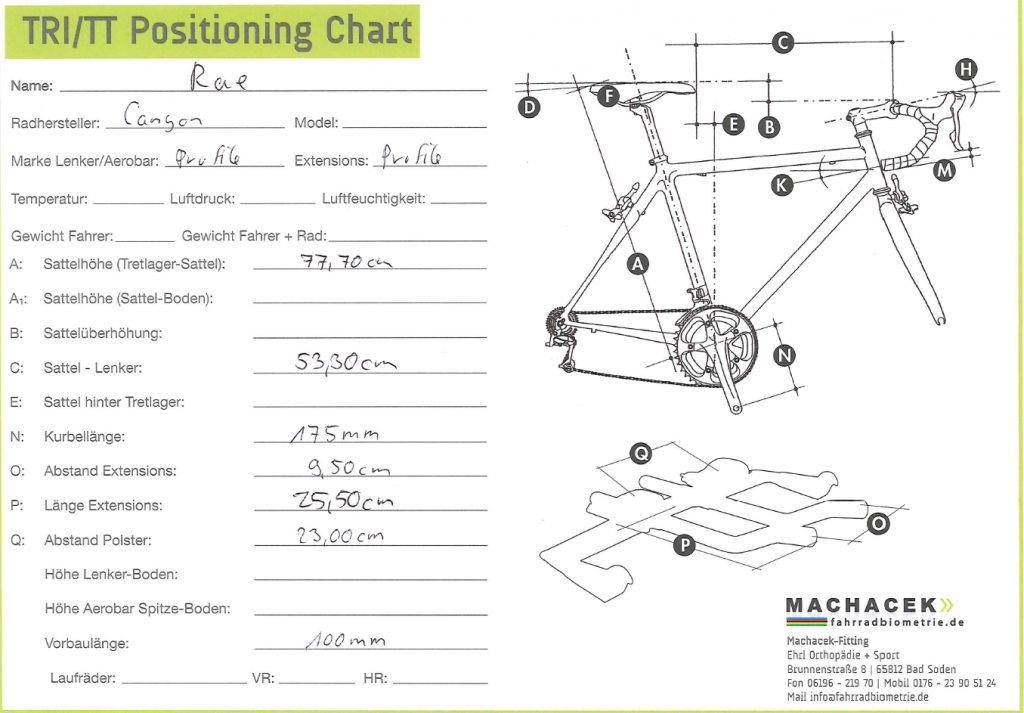 Insoles?
Machacek sell cycling insoles, in fact they make them and sell them personally. I had thought in advance that they would therefore recommend insoles, and they did. They cost 199€ for 2 pairs. My krankenkasse (health insurance) will pay 120€ of that, so I would pay 79€. I will buy the insoles if they will help. My doctor needs to give me a prescription though. I have been to the doctors so often recently and have an appointment planned for early January. I'll will wait until then to get my prescription for the insoles, my races don't start until June, so January shouldn't be too late!
Conclusion
All in all, I was happy with how the Radbiometrie went. I hate it when the result is: your position is already pretty good. That it was awful means I should have some pretty big time saving come tri season time. I wanted to try it out on the trainer the next day, but I punctured on the way home from the fitting, and don't have a spare 80mm valve inner tube, so that will have to wait a few days!
Post Script – Insoles:
As mentioned in my original post, I wanted to wait until my doctor's appointment in January before getting a prescription for my insoles. apparently Machacek weren't so keen on waiting though. Yesterday (14.12.2016) my insoles arrived with a bill for 199€ even though I didn't order them! So today I went to the doctor to get a prescription, as I won't pay 199€ for insoles.
I was told I would get 2 pairs for 79€, as my insurance will pay 120€. This isn't true. I will get 1 pair for 79€, just a small difference.  The doctor also has to agree with the need for insoles, he did, but could have disagreed. If he hadn't I would have been left with an unordered pair of insoles for 199€, instead of later ordering 2 pairs for 79€ as discussed. This has left a bitter taste in my mouth.