Staffelmarathon
A few weeks ago I saw an email from Stephan, from TCEC, asking if anyone fancied running in the Mörfelden Staffelmarathon (relay). I am trying to race myself fit at the moment, so jumped at the chance. I ate too much cake on Saturday, so work up weighing 81kg, but I know that my true weight is 79kg at the moment.
Lex Laufexperten
Lex Laufexperten, a running shop chain, had quite a few teams signed up for the Staffelmarathon.  They were kind enough to cover the entry fees for us too, which was good of them.  I seemed to have been put onto the 'fast' team and was given the last leg, which had the bonus of meaning that I didn't have to be there at 9am, when the race starts, as I wouldn't run until at least 11am.
I had to get the tram, then 2 trains, then walk to the start in Morfelden. It was no biggie, except that it was absolutely freezing! It was about -10degrees at 9am when I was waiting for 20 minute for the next train at Frankfurt stadium.  I arrived in Morfelden desperate to find a toilet, but couldn't find one, so I waddled the 15minutes to the start.
Legs 1-3
Torsten ran the first leg of our race, and finished in about 46 minutes.  Robert, who ran last week in Rüsselsheim too, then did the 2nd leg, overtaking a few people in a sub42 minute effort.  Then Stephan set of after 1:28 and predicted he would need 45 minutes, so I would start after 2:13.
I got myself ready but stayed inside as it was still bitter cold.  I only had shorts with me, but the bigger problem was a lack of a hat.  As I had 2 buffs, I made one into a hat, and one around the neck – sorted.
I gave myself a massive 7 minutes of warm up time, which was too long really!  Stephan ran 1 minute faster than predicted, so after 2:12 I set off.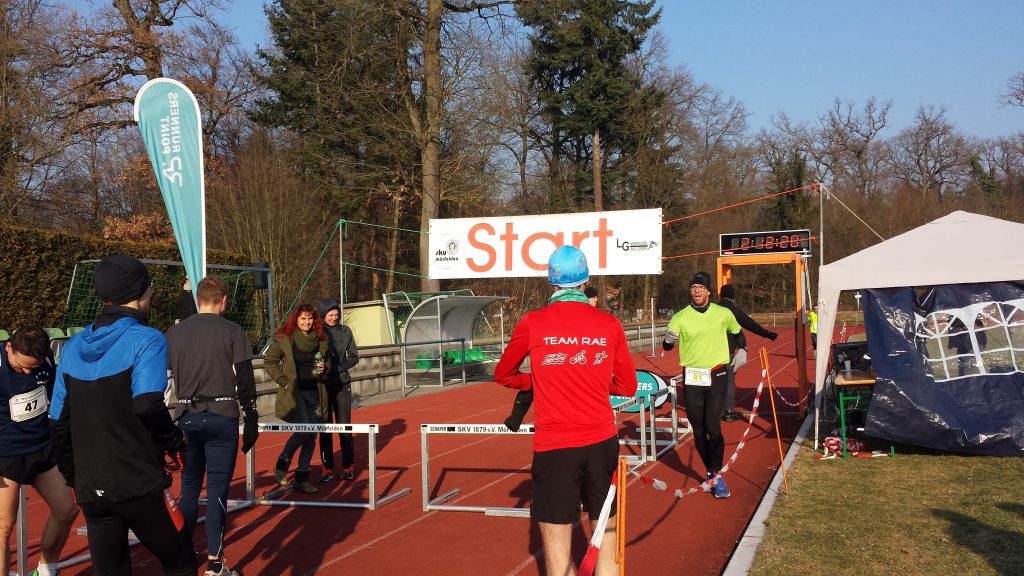 My Race
The course was completely unknown to me, but not dissimilar to how I remember Groß Gerau from last year.  It was flat and kind of cinder most of the time.  Only the start was on mud, which was frozen as hard as stone.  The few turns there were were well sign-posted so I could get my head down and just run.
I couldn't get my heart rate up, even though my pace was pretty good.  After 2km I saw my HR was 166bpm.  That is very low for me in a 10k (ish) race.  It was all a bit uneventful, I ran almost completely alone for the whole race. After 5km I was disappointed to see 18:45 on the clock, then the little out and back ending in a U-turn wasn't my favourite part, but it was all fine and soon enough I was at km 10.  I got onto the track and didn't sprint it in, but did up the pace.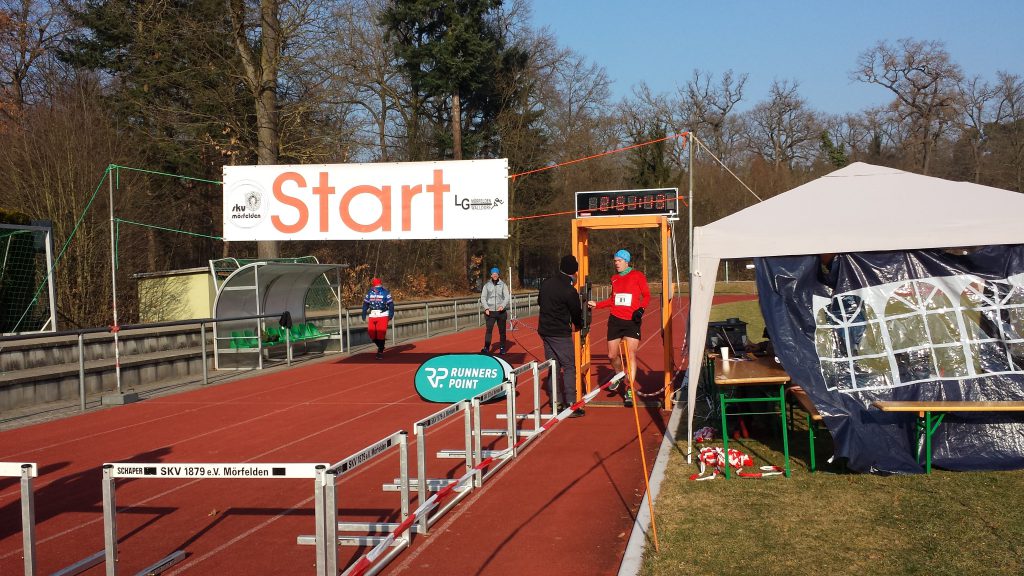 I finished in 39:24, which is about what I expected, though could have been better.  The team were all happy and I think with a few competitors to run with/against I could have gone a little faster. Our Staffelmarathon total time was 2:51:43 and we came 8th overall.  Not bad at all really.
Coming up
Next up – I am not sure yet!  I am kicking up my cycling and swimming training now, but want to race quite a lot still.  Rodgau 10km on Feb 4th would be good, Mörfelden HM on Feb 19th is in my plan as is Groß-Gerau Frühjahrslauf 10km on Feb 25th too. It will be building up to the Polderlauf 15km that I am aiming to win on April 1st, but I have plenty of time until then!
See you soon!