After a good race on Sunday, the first week of kind of tapering started in week 14.  It looks like being a boiling hot week. Generally warmer than 32°C basically all week.  That won't make it easy to do my 2h longer run, or my 4h longer ride, but I am happy that the real heat waited until this week to arrive, 2.5h runs in 35°C heat aren't fun.
Monday
Just a nice easy swim.  That makes it 3 consecutive days of swimming! We only have the pool for 1h now, and I forgot to start my watch, so I don't know how much we swam. It felt like quite a lot though, I gave us 2700m.
Tuesday
It had to be done, and I knew it wouldn't be fun, but my 2h run was going to be a hot one.  I set off straight from work and felt ok for the first hour.  In the shade it was bearable, but in the sunshine it was dreadful. My heart rate started to rise, not helped by the fact that I had my rucksack on for the first 90mins.  After the 3 brückenlauf, I headed back to Hechtsheim.  I wanted to drink something, but after downing 700mls of water, I had a bad stitch.
I ran whilst holding my side for a while, until the pain subsided.  Quite a lot of the last 30mins was in the open with no shade. I guess it was 33°C or so and I really wasn't feeling great.  I got through the 2h and had run 24.4km, so slightly faster than 3h30 marathon pace, but getting to the end would be very tough if it is like that in Roth.
Wednesday
I had the day off to do my longer ride.  It was a far nicer 4h ride, rather than the 6h that I did last week.  It was boiling hot again.  I set off at 10:20am, so would be out in the midday sun.  After 1h45 I stopped in Osthofen to fill up the bottles, I had to wait a good while to get a coke, I guess it was the lunch break at the local school.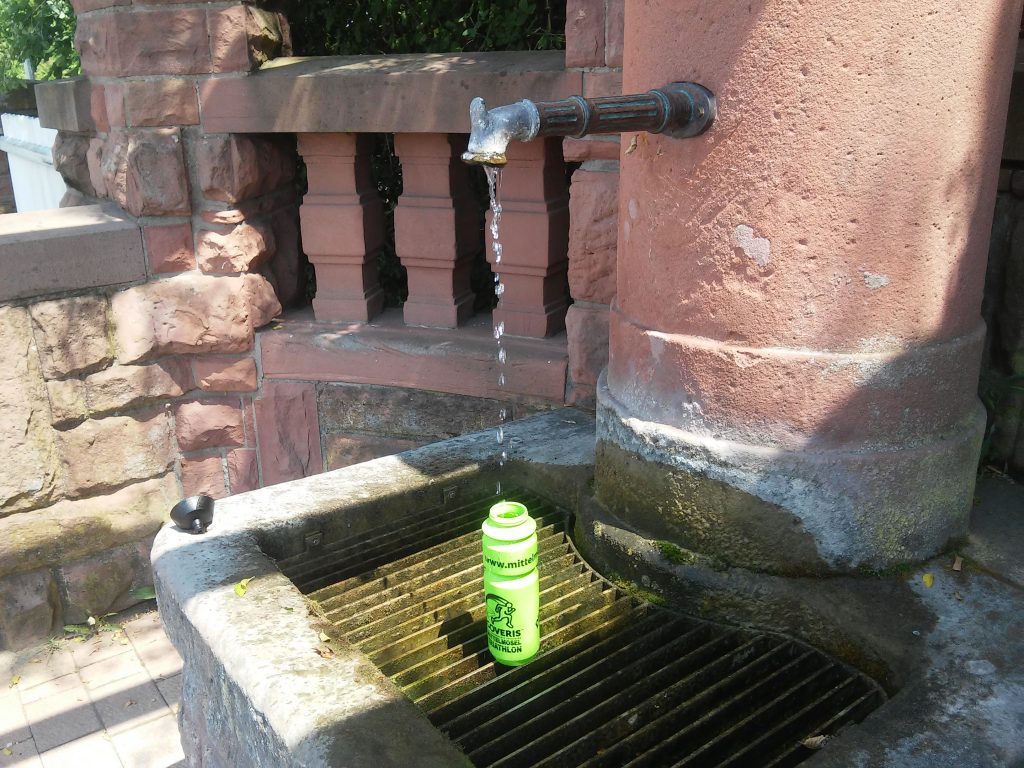 I set off again and after 3h I was near Guntersblum. Alex from work had told me that I could get water from there, so I looked for and found the tap.  Filled up I was good to go to the end.  I didn't feel fast and the heat was draining, but I did 124km in 3h55, that is after stops at traffic lights were subtracted, I got caught at some for several minutes!
Thursday
Just another typical swim day and the start of my real tapering, now that the long run and ride are done.
We had the 50m lane this time, it was a decent session, some of the fast swimmers were in with us, so I swam behind Lukas, like way behind him!  I only managed just short of an hour before the time was up and we had to get out, my times seemed decent though, some 3:15s for 200m repeats.
Friday
I had signed up for Swim nights in Wörrstadt. Originally it was planned as a semi-final and final, both 1000m. Not enough people signed up do they just did a split final in the end.
I cycled to the start against a nasty headwind but was there in good time.  I watched the 500m race, which was won by the guy who passed my on the bike in Gimbsheim. Then after a little warm up, it was time to go.  I had water in my left eye from the start on, but it didn't really bother me.  I could feel that I was about 4th or 5th after 100m, but they all fell away badly and I ended up moving though to an easy 1st place.  As it was in a 25m pool, I lost count quickly and had no idea how much I had left.  Finally after 950m the counter told me I had 1 more to go, so I sped up and sprinted it in.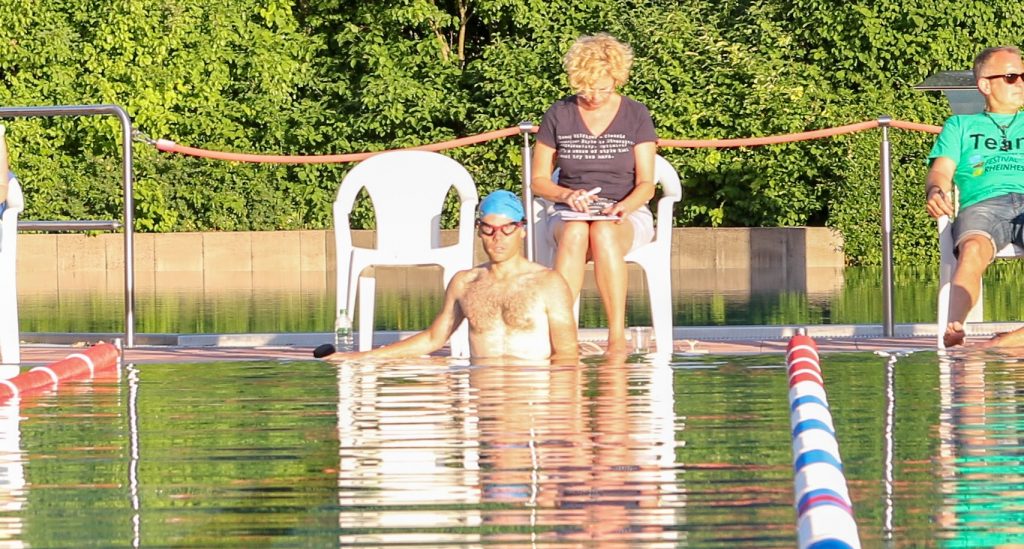 I finished in 16:11, which was about what I expected and is good enough for me.  I won fairly comfortably, but in the 2nd race a girl swam a good minute faster than me, not too surprising really.
As it was over earlier than expected, I decided to roll home, it was getting a bit dark near the end, so I stayed off the roads, but the extra 23km was worthwhile, even if just to avoid a long train ride home!
Saturday
Having done more than planned on Friday, Saturday was an easy day.  I just ran in the evening for 45mins as I had only run once during the week!  It was fine, I ran 9.1km at 4:45/km, it was very easy.
Sunday
Nibelungen Triathlon day!  See the race report.
I ran 2.2km in the warm up, then after the race we cycled home behind Marcus.  The team had planned an easy roll home (~45km), but Marcus had other plans, so we all rode in silence in a pace line on the TT bars home at about 40km/h.  It wasn't too tough, but unnecessary in my opinion.  I got home 20 minutes earlier than expected though, so it wasn't too bad.
Overview
So that was the first kind of tapering week. I still did 15h, but I felt pretty good yesterday.  My biggest problem right now is sleep.  I am not sleeping well in the heat, and when I do I am waking up early.  On Saturday I slept during the day, but then had an awful night before the race.  I will set my alarm later for the next 2 weeks and start work later to try to get some extra sleep.
Otherwise everything looks good, confidence is high for Roth and even the weather looks good. If the tapering goes well, I think sub10 really is on the cards.