Monday
As it's my down week, I wanted to start off with a shorter, slower recovery run, especially after the long run yesterday, I ran 'das Herzchen' run, so named because it has a loop that looks like a heart in it!  Apart from waiting at lights for ages, it was fine. My heart rate strap messed up a bit, but I had a mid-high 120s BPM average, for a 5:00/km average pace over 10.84km
Tuesday
Weighed in at 78.4kg, moving in the right direction. In the evening I didn't fancy waiting for the TV Hechtsheim training at 19:00, so I ran as soon as I got home. Keeping up my quality, I decided to try some hill intervals. I always look at one path that goes straight up the side of the hill in Hechtsheim and think – I'm pleased I'm not running up that! Well today I would be.  I found that 2 minutes of hard running got me to a side path, where I could turn around. I did 6 repeats, feeling like the 6th was very hard work (and slower).
I got a bit lost on the way back cutting over a trail, but got home after 1h20. I was surprised to see my slow 5:09/km average, but later saw that the slowest part of the run was the intervals! It is a steep old path, so keeping a fast pace up there would be tough.
Wednesday
AM: I ran a very easy recovery pace to work. I took the 5km way round as planned, but I wished that I had done at least 7km, I got to work too early and felt quite good. It was warm too, 9 degrees when I set off! The stats: 5:07/km with a 120bpm HR, basically back to normal, phew!
PM: Ran just under 7km home nice and easy. Nothing to see here. I had butt muscle (glutes) ache all day from the hill intervals yesterday. It's probably good that I strengthen my glutes, but stairs weren't my friends today!
A little later I went to the pool in Mombach. Marco was there and had a plan for his session, so I jumped in and swam with him.  I did 400m in, 5x100m arms, 16x50m every 4th breaststroke, 100m easy, 4x200m snorkel, 100m flippers kicking with massive calf cramps out. 2700m. It was pretty good. I could swim with Marco up until the snorkel part, when I left him behind, probably due to my experience of using a snorkel in training. I feel like I am getting some of my swimming fitness back, I need to swim twice a week or more until the marathon, then kick on.
Thursday
AM: Up and out early again. I ran a new route to work. To the Messe, then around through the Industriegebiet, then straight along Rheinhessenstr to work. It worked out to be just over 9km. The start wasn't so much fun, but after my muscles warmed up, it was ok. My muscle ache from the hill intervals on Tuesday was still pretty noticeable!
PM: There was a SITO seminar, so I was in work until after 6pm. I got changed in the bathroom after the seminar and ran home from there. I felt quite good, I was surprised by how slow I had run – 6km 4:51/km
Friday
I put on my new Nike Zoom Flys that arrived yesterday (my 2nd pair) and headed to the track. I wanted to try my old 4x2000m + 4x200m intervals session. I was actually a little worried, I wanted to do my 2000m intervals in less than 7:20, or 3:40/km. I ran the first lap too slow in 90 seconds, but soon found my groove and started knocking out 88 second laps. 1st interval done in 7:19. The second came and went in 7:18. My heart rate wasn't getting too high (168bpm at the end) and I was holding myself back. On the 3rd intervals I ran a bit faster at 7:14, but still felt fine so went for it a bit more in the last 2km. I ran through the 1st 1000m in 3:31 and finished in 6:58, I was shocked and ecstatic!
The 200m sprints are a formality, except that my shoes started rubbing on my left heel (it blistered), I ran 37-36-37-36 before jogging home in a little pain.
I feel like I have done sub 7:20 2000m splits in training before (strava shows that I haven't!!) but I thought it would be tough. It was easy, 6:58 was tough at the end, but that is a lot faster too. It looks like my PBs are going to fall soon!
Saturday
I woke up just before 9am and decided to run with TCEC. I ate a banana and set off at about 9:30. It took a little longer than expected (it was more than 7km there, I thought it would be 5km) so I was 5 mins late, luckily they were still there. It was much colder than it has been recently, so it was full hat, gloves and jacket weather.
We set off and the pace was fine, not fast but not too slow, a nice recovery run pace. We had a good chat and the time passed pretty quickly. After about 1h20 with the group, they were done and I was off home. It was another 7.xkm home, so I actually ran 31km in 2h35 or so all together, much more than I had planned. I was getting pretty hungry at the end.
Sunday
Day off  -I think this picture sums it up well: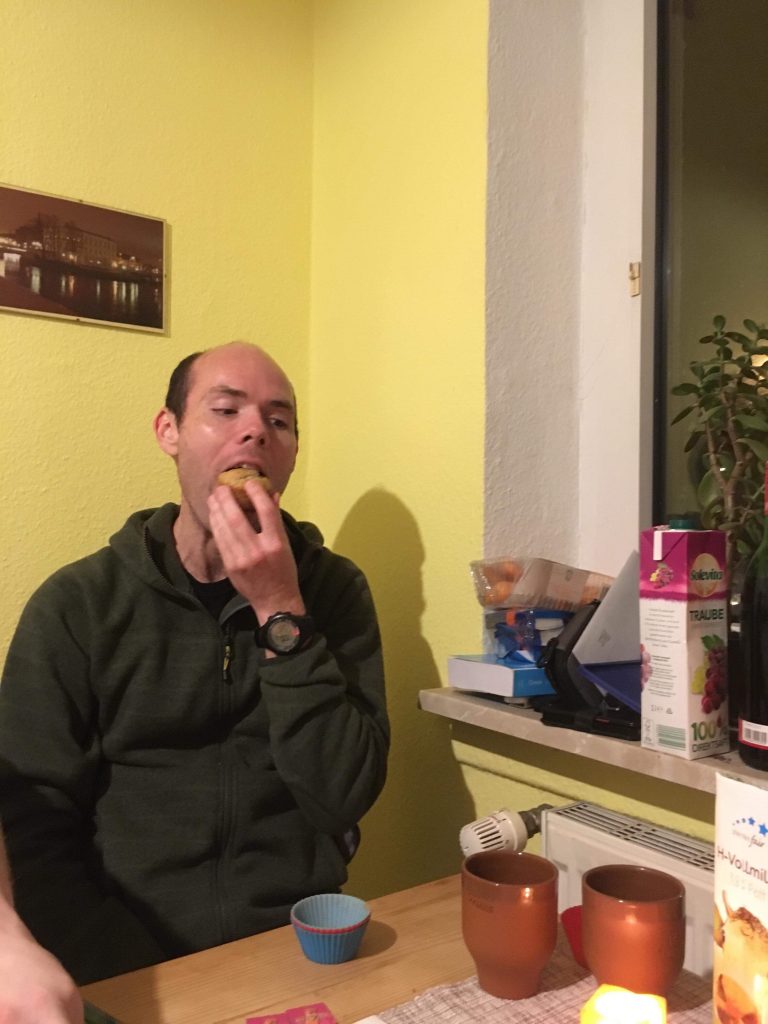 Overview:
So my down week of 90km was actually basically 100km, with 2 good/great interval sessions and an unplanned long run. It probably wasn't as easy as I wanted it to be, but a Sunday rest day sets me up for next week nicely.  The best part of the running week was clearly my 4x2000m on Friday. It has given me confidence that I can break all my PBs in the near future, I just need to stay fit and pick the right races.
Next week somewhere between 110-120km would be good, without a 30km+ run and possible including a 10k race. If I do a 10k race, I will have to think about whether or not I do 2 quality sessions, or just 1 and the race.
10 weeks to go, it actually seems a long way off now, I think I would be ready before then…