The half way week, now I can start counting down instead of counting up!
Monday
Rosenmontag – rest day as my feet and right glute were a bit sore. I over ate but didn't drink too much, could have been better, could have been worse!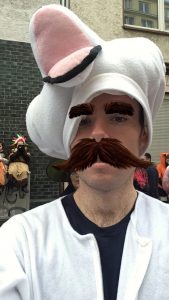 Tuesday
As I am off work until Thursday, I won't be doubling. So I ran for just about 90 minutes nice and easy for 18.6km. It was a nice run, though my right foot is still slightly sore from running in the Zoom Flys on Saturday!
Wednesday
It was my birthday, so I ate a LOT of pancakes for breakfast!  After a nap, I ran 17km in another longer single. The weather was lovely, chilly but sunny.
Thursday
AM: I had left my bike in town on Saturday after the race, I wanted to finally pick it up today, so I ran into town before work.  It was 5.6km at about 4:58/km and a nearly dead 118bpm heart rate. It started snowing as I was running and when I cycled back to work it started getting heavier.  I had planned a workout this evening, I'll have to see if that is still possible.
PM: I really wanted to do a workout, so I tip toed through the snow to the track after work, but that wasn't going to happen:
I looked around to see if the paths nearby were clear of snow, but they weren't. There just wasn't anywhere where I could run fast and not probably slip and fall. Feeling slightly annoyed, I jogged around a little bit, before going home. I only managed about 7.65km at 5:13/km due to the snow.
Friday
AM: The snow was largely gone, so the paths weren't too bad, but the roads were fairly deadly on the way to work. With lentil soup from dinner working its way through the system quickly, I just ran 5.2km at a very very slow pace of 5:20/km which was good for getting my heart rate up to 115bpm! At least my clothes aren't very sweaty today!
PM: I cycled home and headed straight out to the now snow free track. I didn't really have a plan, I didn't want to kill myself, but I wanted some speedwork, so 7x1km at 10k pace?  The first interval was right at 3:34, but it felt too easy, so I sped them up to 3:30/km. I was still cruising them but didn't need to go overboard 2 days before a half marathon. All in it was 15km in 1h05.
Saturday:
I woke up at 8am, so ate some cornflakes. I decided against the TCEC run, so set off at 11am on an easy loop.  It was pretty crappy! It was like I was hungry after 3km, but I dragged myself around 14.9km in 1h14 feeling weak all the way. My right hamstring had a few wobbles that buckled my leg. It didn't hurt or anything, but seems far from ideal.
For the rest of the day I felt starving. I ate lots but still felt hungry. I would prefer not to over-indulge before a race, but it felt like my body was telling me to eat, so I did.
Sunday:
As mentioned last week, I had a plan to run Mörfelden HM as a up-paced long run. I would do a warm up jog, 21.1km at 4mins/km, then another loop of 10.55km to round out my long run.
All went to plan more or less. I set off at 4:00/km pretty much and was with Jochen after 3km. He wasn't having a good day (in fact his training is going very badly for some reason that is hard to explain) so I left him behind.  I ticked up the pace a little after 10km and split 41:57, a little too fast after 10.55km.
3rd place was 'only' 300m ahead of me, so I thought that if I sped up and he slowed down, I might catch him.  I sped up a little without going all out and passed a few people. After 16km it was clear that I wouldn't catch a few people ahead of me, so I didn't try to overdo it at the end and I ran in a 1:22:44 with the 2nd half being in 40:47.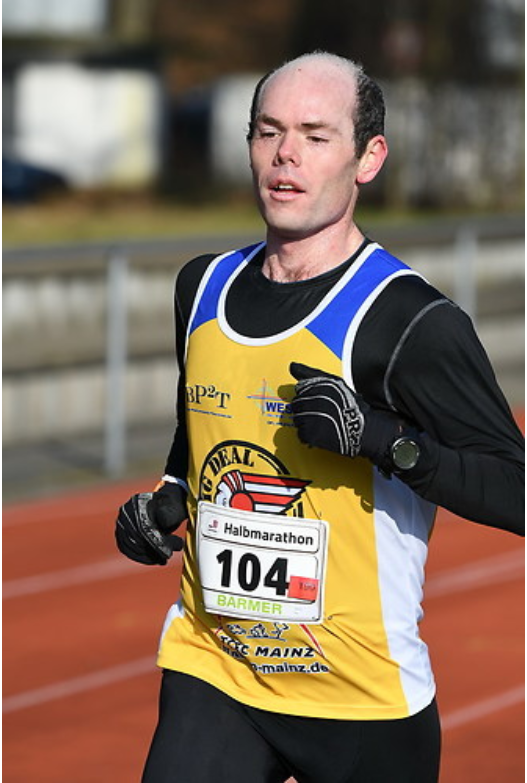 I had a couple of cups of tea, then headed straight off for my 3rd loop, it was a real slow jog, which seemed to take an age, but eventually it was done and I could shower and eat cake!
I was 7th place and 2nd in my age group. It ended up being a HM at marathon pace, with the 2nd half being faster than marathon pace. I don't know how I feel about it yet, it was certainly no nightmare, but maybe I should have taken it easier.
Overview:
It wasn't a perfect week for training! Rosenmontag meant a rest day, on Monday, though that was due anyway. Wednesday was my birthday and it snowed on Thursday, so I think I did ok to get in my 118km, even though I wanted a bit more.  I feel like my pace is there and endurance is looking promising. If I had run the half marathon at a steady pace, I could have judged better if I was in the right zone. My 161bpm average would be about right to a little high for my marathon pace, I would definitely be worried about holding that effort for 42.2km.
Next week will be a bit lower mileage, ending with Langen 10k. I have heard that it is a flat road race, if I run like I think I can, I want to be close to 35:00.