The long awaited start to the 2018 RTV season had finally arrived. It was a team sprint, so 750m swim, 20km bike, 5km run but with 5 people in the team, on road bikes and the 4th man over the finish line counts. Oh sorry did I say 4th man? I mean 3rd man! We had assumed it was the 4th man that counts, but found out 1h before the race that actually the 3rd man counts.
I had 'won' my place in the team by the skin of my teeth, basically because Peter's far superior swim (11:45 over 800m) couldn't be fully utilized as Chrisoph and Michael are much slower than he is (12:50 over 800m), so he'd have to wait for them, then quite possible get dropped on the bike.
Our 'pack leader' Sebi decided to suggest to our team that they leave me behind in the water if I fall behind, and that they could cycle as a 4 man team. This pissed me off quite a lot. I wasn't there to swim 750m and be left to suck my thumb for the rest of the race.  The team rejected his suggestion and we had decided to wait for me in T1.
The race started with 2 teams running into the lake, then the next 2 teams started 1 minute later. We would start at 16:01, 1 minute after the first 2 teams.  I got a good start using the John Newsome 'leave on 2' tactic! I was soon into my stride/stroke and was swimming on Basti's feet pretty well.  My fear was that they would swim away from me at pace, but actually they didn't get away from me at all. After the turn around, which was surrounded by very thick weeds, I actually felt good and started moving ahead of Christoph. I got out of the water about 5-10 seconds before him, so they couldn't have left me behind of they'd wanted to 🙂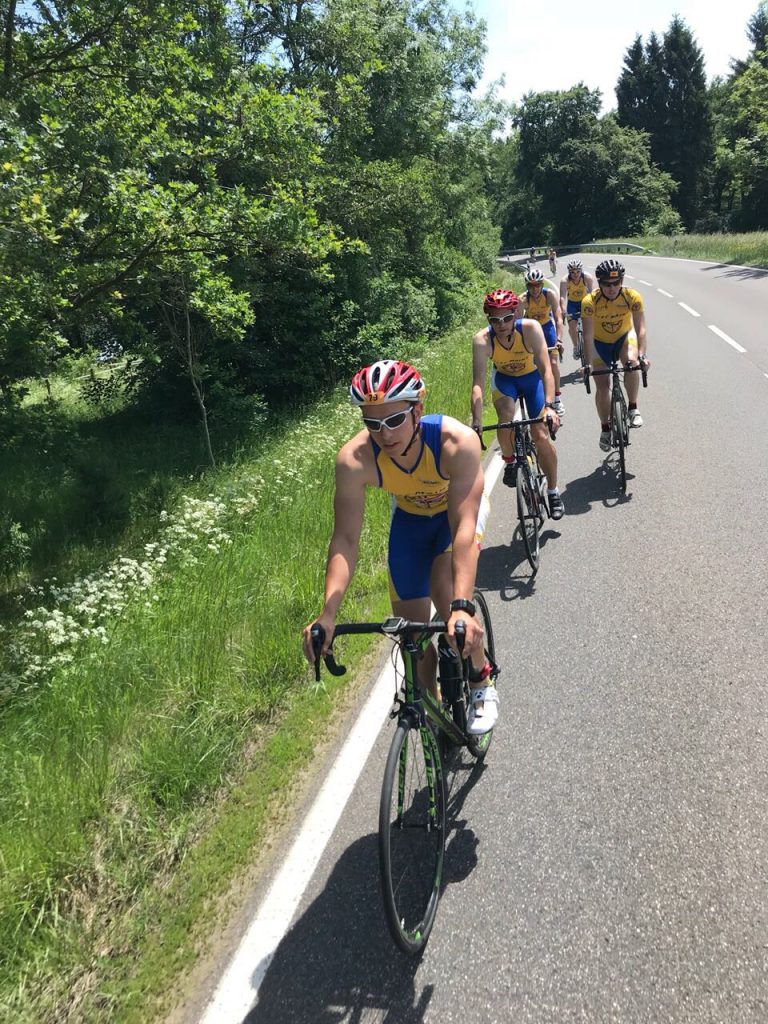 After a slow T1, we started on the bike course. We had expected a pan flat course, but had done a loop as warm up and it was far from flat!  We set off like a bat out of hell and I was worried, I couldn't keep up this pace!  Luckily Christoph couldn't either, so they slowed to let us catch back on.  The first loop was tough for me, it was just too fast.  The 2nd loop was tough, but better, I was keeping pace. On the 3rd loop I felt strong, I could even start doing my pulls at the front, probably as no one else really wanted to by that point!
After destroying ourselves on the bike for 30 minutes, I did not feel like running a fast 5km. I messed up my transition badly. I pushed my bike by the stem and lost control hitting it against my knee and drawing a little blood. Jonas decided he wasn't going to run, he'd worked hard on the bike. Christoph was ahead of me heading out onto the run course. I hoped that he would be strong and I could drop out, but after a few hundred metres it was clear, I was our 3rd best runner on the day, and I would have to suffer.
Basti and Michael pushed me most of the way round. The course was rolling and all not on asphalt. It was also hot and humid, far from my favourite conditions.  I felt like I would vomit after 2-3km but I didn't and could keep my fairly crappy pace going for the full 5km. The last few hundred metres were purgatory, but Michael especially was so strong, it felt a bit like I was Jonny Brownlee being carried by Alistair in Cozumel at times!
We crossed the line with a 20:20 run split, ever so shit! I need to start running properly again, otherwise I won't be having any good races like last season.
Our team finished 6th from 12, but some of teams had dropped down some top athletes from higher teams for the first race of the year, so although it wasn't a great result, it wasn't a disgrace either. We were in the main pack, a small improvement would have had us near the front.
So on we go. The next race is in 8 days in Mußbach.  It's a 500m pool swim, 18km hilly and technical bike, then a 5km technical run. Why can't we just have a nice flat race??