I just read my post from last year about the Vereinsmeisterschaft. I ended it by saying that it had been my best season ever and that I'd be kicking on this season. Well this season has probably been my worst since getting into endurance sports properly – how the world turns!
Some background – about a month ago I'd been getting a good few weeks of training in and went for a pre-work run. I ran at 4:37/km with a low 135bpm heart rate. I was back! I hadn't been running that much, but I was swimming a bit and cycling lots.  A few days later I felt ill. I was weak and nausious, then came the black stool, I've seen this story before.
I was hopeful that it was just stomach ache or so, but a couple of days later when I felt a little better, I did a test run. 4:55/km with 151bpm – bugger. I went to the doctor and had a blood test, my haemoglobin was down from 15.8 to 13.2, so I had had a bleed again.
I've been trying to recover, but that is easier said than done! My ferritin was already low, now I needed to recover about a litre of blood and get my ferritin up – good luck.  This all happened 3.5 weeks before Neuwied, so I decided to drop out of the race, I wouldn't be able to compete at a decent level.  1 week after Neuwied is the Vereinsmeisterschaft, that seems like a check to see where I am in my recovery 2 weeks before Remagen.
So I was up and ready on Sunday at 7am. I hadn't ridden my Tribike in ages, but I got ready and set off to Nieder-Olm. After about 6km I stopped and realised  -I had my bibshorts on, not my trisuit! I had to go back and get it and set off again. Time was now a little tight, but I was still there 40 minutes before the start at 9:50.
I managed a 100m warm up swim, then it was go time. My lane worked out pretty well for me in my current condition. I swam in the pace line quite easily and had a decent swim considering (no clock – don't know the time).
In the spirit of the day, I decided to put on my socks for the bike, I need to train so don't want blisters.  The bike started slowly but I got caught in a group of Stephan, Heiko B, Heiko M and Pascal. We got stopped by traffic a couple of times making it tough to separate out, Pascal cheats massively too, so that didn't help break up the group!
I decided to push on the uphill towards Setzen, it's a bit longer and steeper there, so I could give it a kick and split the group. That worked well and I was away from the group, though Stephan caught my up and passed my on the more technical part that followed.
I got off the bike having failed with my flying dismount (it's downhill to T2, so tough to get ready to dismount). I struggled to find my shoes but then was away. Stephan was ahead of my, Heiko maybe 50m behind.
I don't like this run route of our Vereinsmeisterschaft, it is tough and hard to find a rhythm as it is often fairly steeply uphill or downhill. It's also a nightmare when you have blood issues, as I have no top end speed at the moment.  Stephan ran away from me and on the out and back I could see all the people ahead of me – where I should be! Heiko was holding firm behind me, maybe edging nearer to me.  With only about 500m to go, he caught me but kindly offered to run in with me rather than run away from me.
A girl was getting encouraged to pass us by the crowd, so we sped up to make sure that didn't happen. We faked a sprint finish and crossed the line next to each other, but they read my chip first so I was ahead of him, pretty unfair!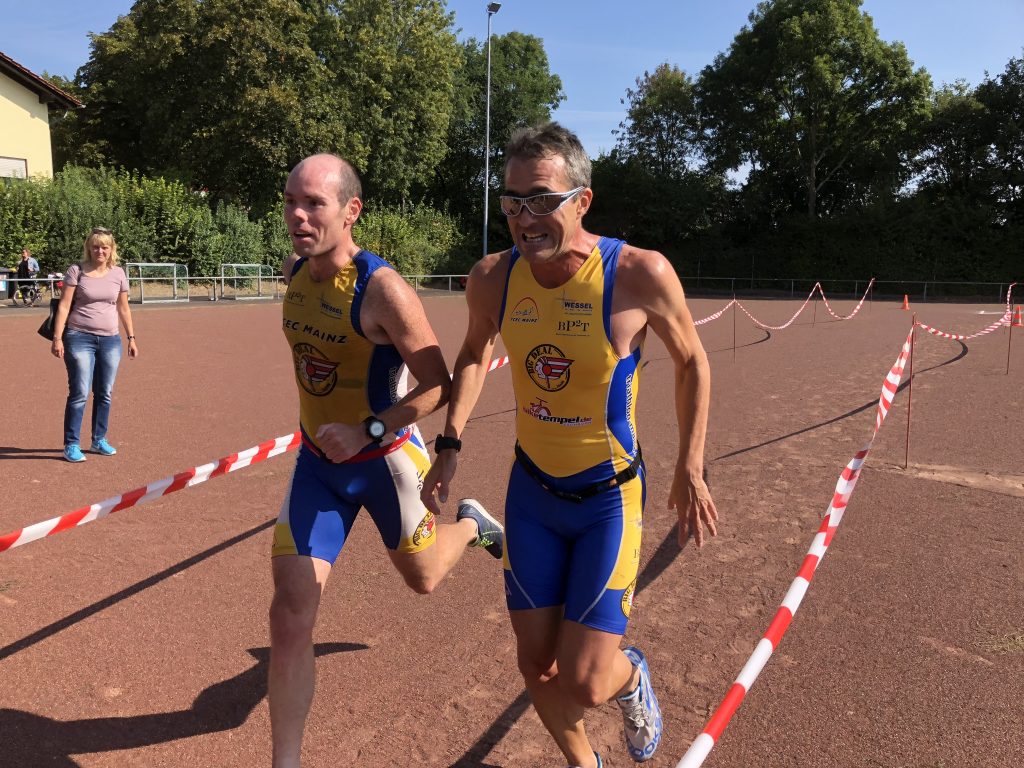 My time was 51:26 compared to 48:59 last year (I was off form last year too, but more due to my season being over). My run time was 90 seconds slower this year over 3.8km! I'd like to have a good race at the VM some time, I just need to stay fit through the summer some time, and not get ill. I've not managed that so far – maybe in 2019!