Last weekend we went to Nice. It was really good and I did a nice warm weather run along the promenade on the Saturday before we came back on the Sunday.
Nikolauslauf
Almost as soon as I arrived home, I started feeling ill. I had a headache, felt weak and thought I was going to vom. After 24h I felt a lot better, but that's when the diarrhoea started. That was pretty dreadful until Thursday, with everything just going straight through me.
I'd signed up for the Nikolauslauf in Gonsenheimerwald a couple of weeks ago as we were offered free start spots from ALV Mainz (Thanks!). After my week of being ill, I decided to not to the 12km, and just do the 6km instead.  My Dad was in town too, so that meant we ate Eritrean food on Friday night and drank some Feuerzangenbowle, perfect preparation for a race!
First ones there
So on Saturday we got up early and all headed to Gonsenheim. There were going to be loads of TCEClers there, so I just had to look for the yellow/blues and get my start number. When I arrived there was no yellow//blue to be seen. We were the first and it was only 30mins before the start!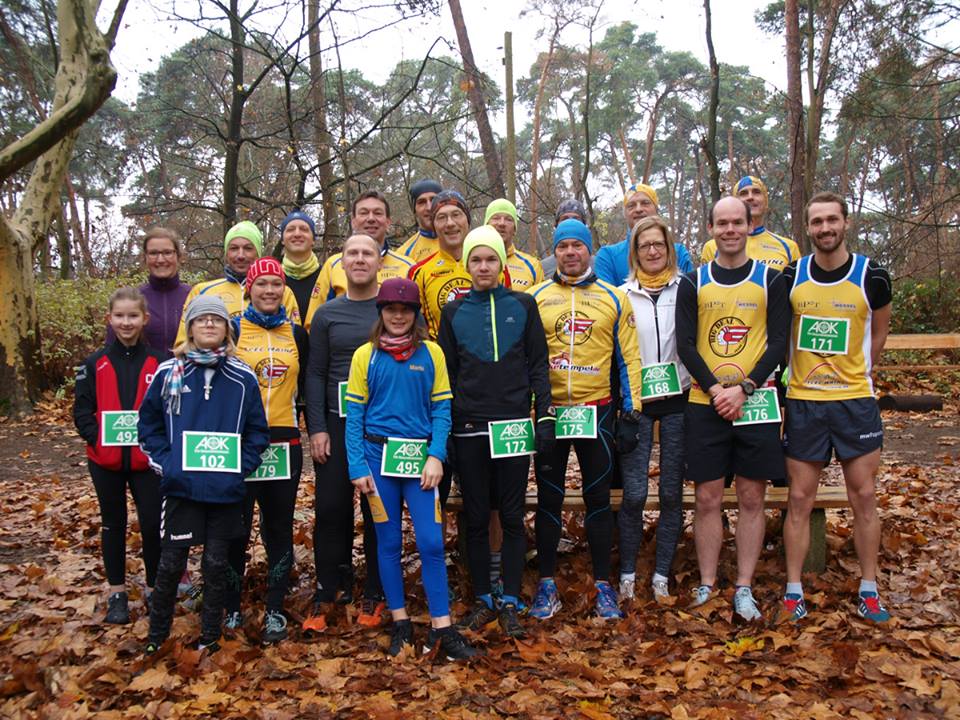 Bit of trail
Anyway, the race started and it was a fast start. I wasn't too far forward, probably about 15th place or so. I settled in to my tempt though and as quite a few kids were running, they had started fast but didn't have the endurance. In the first few km I overtook a few, including the first woman.  I didn't push too much, not that I could have done much more anyway. The route is mildly rolling and slightly more technical than normal for me as it on trail with lots of roots all over the place.  I could manage the little ups and downs fine, which was a good thing.
Third place
After about 5km the first woman passed me back, I hadn't slowed down but she seemed to have another gear. I didn't try to go with her, and couldn't have anyway.  I was happy to overtake a guy with a GoPro on his head in the last km, before crossing the line, happy not to have to do another lap.
When I heard that I was 3rd place, I was surprised, and I was only about 12 seconds behind first! I mean the fastest 12km guys were well clear, including Lukas who won again (he always does :)). All in all it was more successful than expected.
Missed the prize giving
The Nikolauslauf prize giving was at 11:30, but I was done at 10:25, so we went to a cafe around the corner to let Katja warm up a bit. At 11:20 we went back, but the prize giving was over, they'd moved it forward because it was too cold. Facepalm.  Anyway I got my prize and we were off to go to the match in Frankfurt, which turned out to be on the day after!
I'll be back on the trainer next week, I'm happy that my running isn't dreadful, even when I'm hardly running. I hope it comes back 100% when I train it again net spring.