The Brooks T7 Racer, what to say? I was in town last year at around Christmas when we went into Runners Point. It's a running shop that is all over the place in Germany.  Usually they sell everything at RRP, so you don't get anything for less than 120€.  That's more than I generally pay for shoes, but on this occasion I saw they had a pair of Brooks T7 Racers for only 50€!
I tried them on, now usually I wear a EU42.5, so I asked for the 42.5. I couldn't get them on my feet. The 43 was also too small, but the 44 seemed about right. It was still definitely not too big, maybe even a little snug!  I bought them and was pretty happy with my new lightweight race shoes.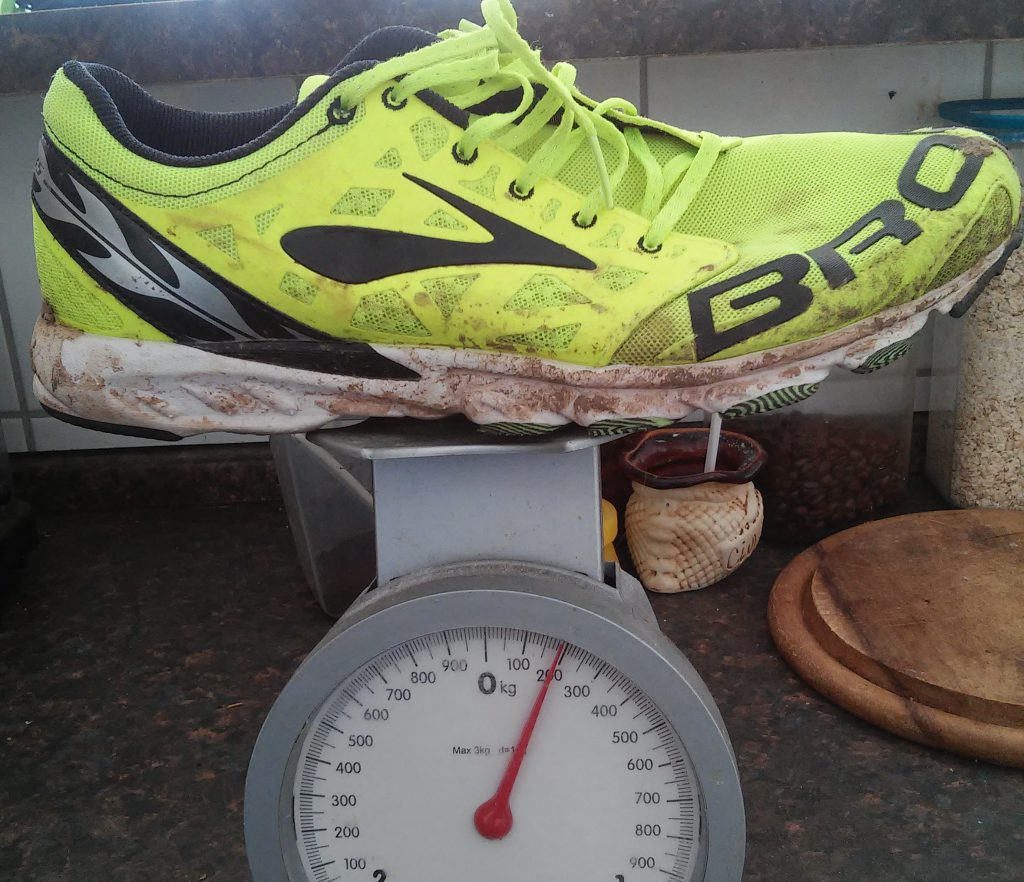 They weigh in at a very low 190g or so, I could hardly wait to get home and try them out.  The weather outside wasn't great, so my normal route was going to be muddy, but I didn't care, so off I ran.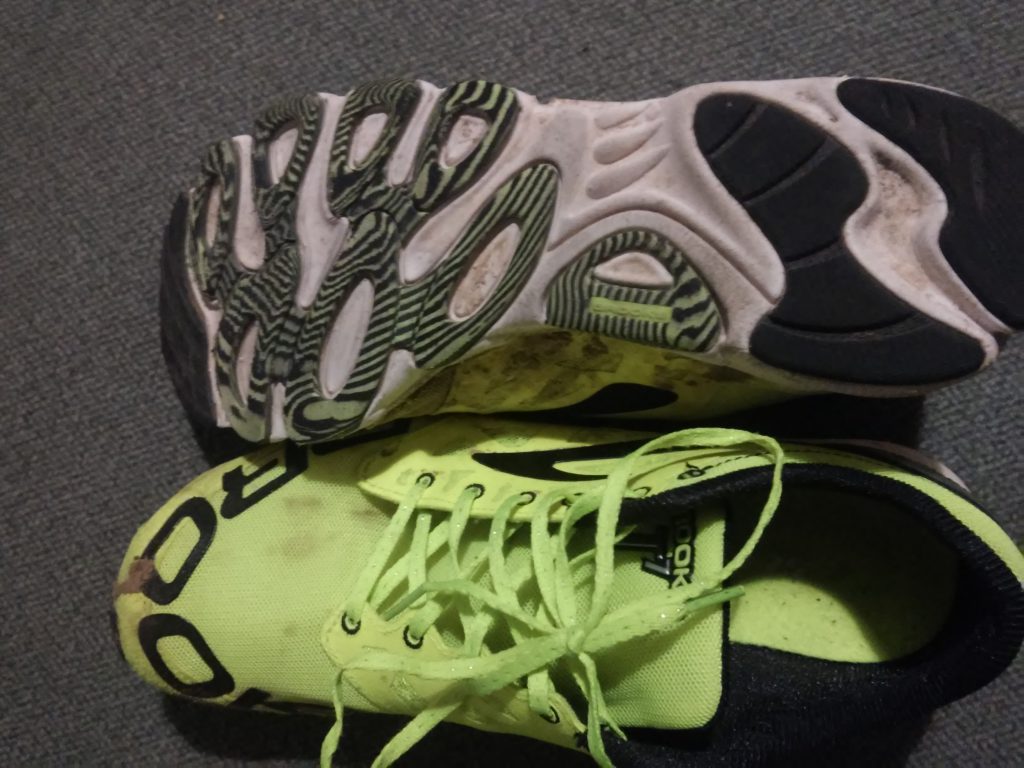 After about 3km I noticed that the shoes were rubbing on the inside of my feet on the arch.  It was on both feet too!  I wanted to do my normal 11.7km loop but I was in serious difficulties after about 8km.  I managed to push through the pain to get home and when I peeled my now muddy new shoes off, I could see the deep blisters on both feet.  These weren't a bit of a pink skin, it was a good few layers deep and would hurt for a good while afterwards.
So I guess what I am saying is, I didn't really enjoy the shoes very much!  For what it is worth, they felt like they had a nice ride. The drop is very high for a minimal shoe at 12mm, but I didn't feel like I was heel striking.
It's pretty obvious where the problem with the shoe lies. The hard outer material of the shoe is right on the back of the ball of the foot on the arch, it is like it was made to rub!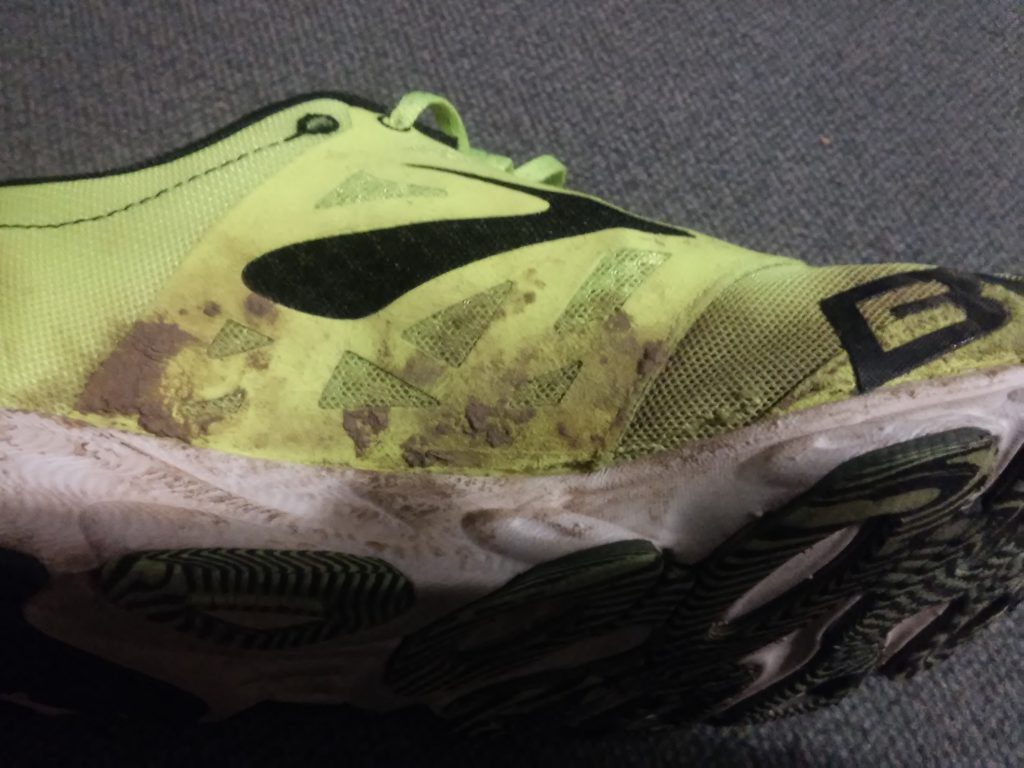 To give them a fair shot, I tried to use them as normal every day shoes for a little while. I wanted to break them in, but they rubbed even when I was walking!
In a blog post I read that someone cuts his shoes so that his feet fit better. That sounded interesting, and what better shoe to try it with than on the Brooks T7 racer!  You might see on the above photo that I have cut through the offending hard outer layer. It's not as extreme as he cuts his shoes, but it should remove the part that caused me so much pain! I will try them out sometime when I am feeling brave (or stupid) and if it has helped I will add a post script to this post.
Conclusion
So all in all the Brooks T7 Racer sucks!  It might ride nice and weigh very little, but it absolutely cut my feet to shreds. The 12mm drop is a weird decision too, racing flats are so called because they are flat.  They shouldn't have huge drops!  If the cutting solves the rubbing problem, I will give them another go. They could make good 10k road race shoes, but I am sceptical that I will ever get to try them out in competition.