New Balance Zante v1, what to say. Well I bought them online from New Balance at the really good price of 61€. Letsrun.com posters write about the Zantes a lot, so I thought I would give them a whirl!
First thing to say it that the outer is great, it is like a sock, there isn't anything that could rub and blister. So unsurprisingly when running they don't rub and blister!
I bought them in a size 43, even though I am often a 42.5, as I always worry that my feet are wide and need more space.  The 43s are about right for me. The shape of the Zante is really good, I mean it actually fits human feet!
In comparison to my much hated Brooks T7 racers, these are a bit heavy at 250g. They do offer a little more protection and cushioning for the extra 50g though.  I ran 12km for my first run in the Zantes and had no problems, in fact I really liked them.
When I used them in a 5km race and had a little foot pain, but it was very twisty and on some cobbles. Maybe that is to be expected in a faster shoe.  I also used them in a Rüsselsheim 10k race and again had some foot pain, but that is gravelled path, so again, not ideal. In the Rhein-Ahr triathlon I used them and had no problems at all, so maybe it is course dependent.
I've still only run about 150km in the Zantes, with 25km being in races, but they still seem to be holding up fine.  Now that might sound like a silly thing to say. I mean after 150km shoes should still be ok, but I read that you can only expect to get 250km out of a pair!  If that is true, all of a sudden they seem expensive at 61€.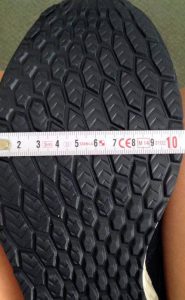 Conclusion
So all in all I like the New Balance Zante. I'll used them for some intervals and races again in the future.  I use my triathlon laces with them as they can be held nice and close to the foot without rubbing. That is a real advantage in a triathlon without socks in my opinion.
If they last 500km, I will get myself another pair in the future. If not, then sorry Zantes, but you were a 'one and out' shoe!