After trying out the Zantes and liking them for shorter and faster runs, I thought it made sense to go for the bigger brother model for longer and slower runs.  The New Balance 1080v8 has the same Fresh Foam sole as the Zantes, but is a far more considerable shoe.
At more than 300g I expect a good bit of cushioning, which in comparison to the Zantes or Brooks T7 racers, they do offer, but in comparison to my Skechers Go Run Ultras, they don't have.  There is a little spring still in the step though, maybe due to a little less cushioning.
I had read a review of the New Balance 1080v6 before I bought them, and it was a bit mixed.  They said that the heel was a bit big and hard to get snug – that is 100% true!  It also said that the entire shoe was hard to get to sit right- I found that I could get it about right with the laces done up using the extra hole, and pretty tightly fastened.  The final point was that the laces are too long – that is 100% right too, unless you need to do a quadruple knot for some weird reason!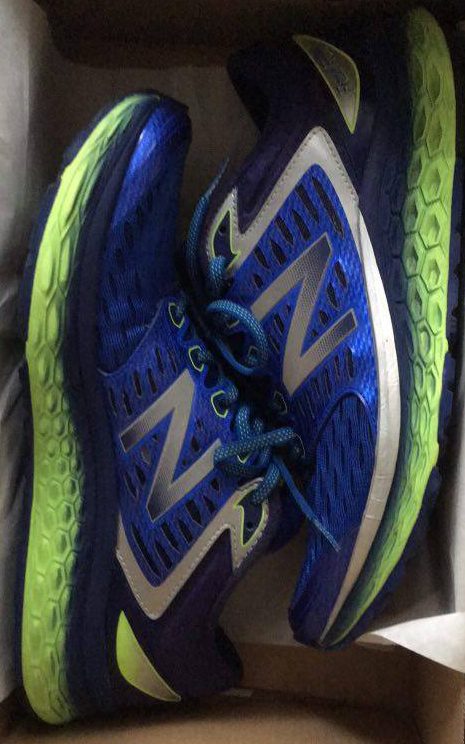 I bought a size 43 as I did with the Zantes, but this time I was a little disappointed as they are a little too big.  A 42.5 would probably be perfect for me.  In training runs the shoes have been fine for me, somewhere between a faster shoe and my Skechers.  The grip seems pretty good too.
The problem is that the 1080s weigh the same as my Skechers Go Run Ultras, but are less cushioned.  I basically want to be well cushioned if I am wearing heavy shoes!  They also cost much more than the Skechers and don't fit as well.  I used them for a 15km race recently and my feet were killing me afterwards. Last year I wore my non-road Skechers and didn't have nearly as sore feet afterwards.
Conclusion
So I guess that means that the New Balance 1080v6 fall into a gap for me. They are not 'short and fast' shoes, but they are not really what I would call well cushioned shoes either.
The fit and upper is also not great compared to the Zantes.
So I won't be buying another pair of them, but I will use the ones I have until they are dead.
The search continues!