Going into week 3 on the Road to Roth, I was a little beaten up from my crash last week and a little tired from my ride yesterday, but nothing too bad.  I feel like I am managing quite well.
My weight is annoying though, I seem to be stuck around the 79kg mark. I really want to get down to at least 77kg, with 75kg being the real goal, but it just isn't happening right now, even though I feel like I am eating more vegetables and not snacking.
Monday
Normal Monday really, I cycled to swim training, we swam about 3000m or so, then I cycled home. My knee wasn't feeling great during the kicking drills, but it was ok. My 50m 'sprints' were in 39-40 seconds.
Tuesday
After a fairly busy day at work, I had some running intervals planned.  5x3m to be exact.  I ran to the Willy Wacker track, but as the toilet was closed, and I couldn't run without going to the toilet, I ran somewhere else and did the intervals between Hechtsheim and Klein Wintersheim.  I realised that my watch was set up not to show the length of the interval, so I had to half guess some, but managed them all fairly accurately.  Obviously the uphill intervals were a bit slower and the downhill ones a bit faster.  My knee really hurt at the end, but I ran 13.2km in 1h.
Wednesday
It was a full day at work, and I couldn't be bothered to sit on the trainer for 45m, so I rode my mountain bike for 45m.  I don't think it is as good training, but I do try to push a bit to keep it energetic.  I jumped off and went straight into the 30m brick run.  After my legs started feeling normal, I really enjoyed it.  My knee didn't hurt either, so I hope that is over now! 45m cycling, just over 30m run.
Thursday
Cycled to swimming but the coach is away at a training camp. His brother coached and he is apparently a fan of freestyle!  We basically crawled the entire 3400m, except for the warm up and cool down.
I managed to bump the valve on my back wheel when unlocking my bike, which broke it. So I had to push my bike to the tram stop 1km away, then get the tram, bus, tram to get home at 11pm. It was pretty annoying!
Friday
With my MTB temporarily out of service, I got the tram to work, but ran home.  I had 10mins faster running to do, so I ran to Hechtsheim, did my 10 mins, then looped back home to do 1h.  It felt ok, though apparently I didn't push enough in my 10 minutes, as my HR was only 153bpm average. I actually ran for 1h04, bonus!
Saturday
With a busy Sunday planned, I decided to do my long ride on Saturday. Last week was a tad dull, so I wanted to ride in a group again. I went to join Vorwärts Orient for their weekly group ride in Gonsenheim. The fast group should average 30km/h, good enough for me!  Unfortunately they only wanted to do the winter loop, so it was 115km total for me in 3h50.
There were some good parts, like the hills, where I was up at the front most of the way. We also did some pace line stuff, which is good practice.  Riding in a group isn't my forte, so getting some extra time in is a good thing too.
The Brick afterwards was ok, but isn't ever something I look forward too.  I ran for 30m at a far too fast 4:30/km.
Sunday
I had lots on on Sunday, so early on I got out for a 45m MTB ride. It should be a Z1 ride, and with a 108bpm HR average, I think it was!
I was out at the Animal shelter and in town for a few hours, before coming back to run 90 minutes.  It was 23 degrees and sunny, so felt very warm.  Apart from the knee pain that just refuses to stay away, it was a good run.  I am still doing the 9m15 running, 45 seconds walking tactic, which breaks down the long run nicely.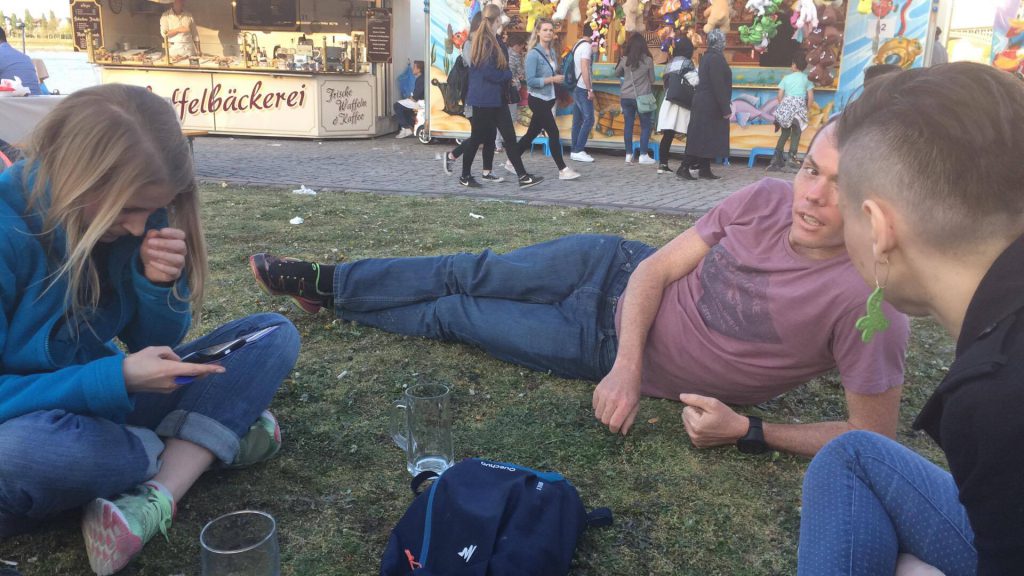 After a quick change I was back into town, making it a busy day for me.  My watch says I did 36,000 steps total.
Review
All in all it was a decent, if unspectacular week.  Total training time was 14h20, but that is minus 30mins cycling home from the pool, and with only 2 swims.  I had also expected to ride 4h30+ on Saturday, but the group ride was shorter than expected.  I feel like I am getting fit, the next 2 weeks will be interesting with Easter then Liege Bastogne Liege. I'll keep you up to date (hopefully with some sporting photos to keep things more interesting)