I haven't been in full run training for quite a while now. My last couple of 10k races were also not the best, so I was kind of worried that Mainz Half Marathon wouldn't go well for me.  Well I say that, but I have lost so much weight that I also kind of expected to run really well!  I had set 1h20 as my goal time, even though that is faster than my recent 10k paces, but for 2.1x the distance!
No team photos
The Mainz Marathon TCEC team photo didn't happen because no one brought a camera. The senior members all left. Apparently forgetting that we could just use a camera phone.  I got to the toilet and felt ready after 1 quick 5min warm up jog.
The Start – Hell's Bells
I got a decent starting position and got away pretty clean too.  I was going to base my race on heart rate. If it was above 173, I would have to slow down and accept my time, or explode in the last few km.  After 3km I saw that I was running a very good 3:42 pace, but my HR was only 167 or so.  After 5km in 18:43 I worked out that I was on 1:19 pace. I was cruising too!  I didn't want to get carried away, so I continued on in the high 160s HR, but the pace stayed good.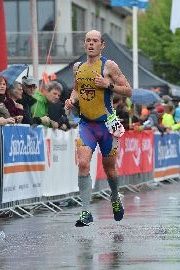 Short stop and start again
After 9km I started to feel my stomach. I was going to have to have a nature break.  There was a portaloo after 10km or so, and I darted in and out in about 25 seconds, but my rhythm was disrupted.  Through 14km I still felt fine, but soon after it all started to fall apart.
My stomach wasn't feeling great, but my calves were probably my biggest problem. I have had problems with my calves for a while now. After 15km on Wormserstrasse they started to really stiffen up.  Wormserstrasse is a life draining part of the Mainz Marathon at the best of times, it is 2.5km out, then a 180 turn, and 2.5km back to the finish. It seems to last for ages and you can see all the faster runners ahead of you cruising along!
Slowly slowing
It was here that my pace that had been 3:40s, fell to the mid to high 3:50s. My sub 1:20 time slowly started to fall away from me.  It never got too bad, I didn't ever slow to 4:01/km but I did struggle until km 20.  From then I could kick for home and put in a finishing spurt to the sound of Pat-a-cake Pat-a-cake baker's man in my head!
Seeing the clock at 1:20:50 as I reached the finish, I sprinted to assure a sub 1:21.  I was quite happy that my run time was good, but I feel like a PB is possible at this weight. I just need to do a bit of real run training!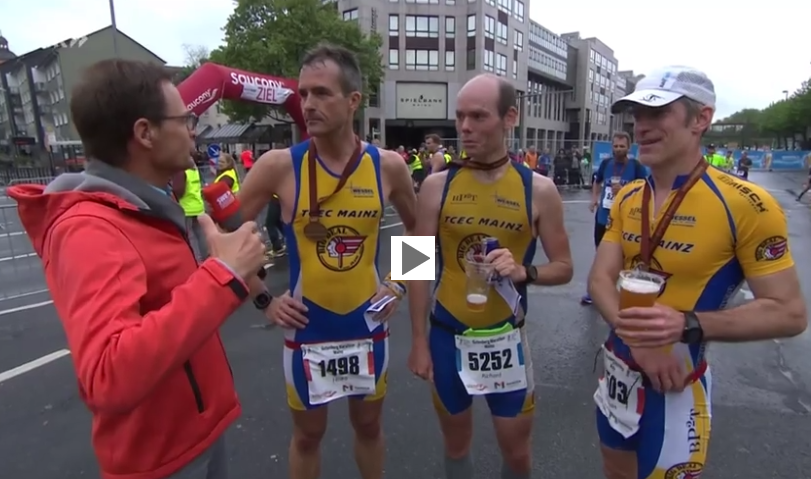 Heiko B was the next TCECler to finish a couple of minutes after me, soon followed by Jochen, Stephan Jung and Volker. A few of the other put in really good times for them, like Marco and Christoph. Happily Katha also finished this year, in a 9minute PB no less! I think she was happy.
The Triathlon Season Starts Here
So it was a decent run for me, my 2nd fastest half marathon ever, but I really think that I could run 1:18 with a but of run training at my current weight.  It doesn't matter though. Roth and triathlon are the goals. It's time to get on the TT bike from now on, because next weekend is the Wörrstadt TT and the week after is my first triathlon of the season.
See you then!