With Mainz Half Marathon planned, I wanted to kick start the week with a longer ride on the bank holiday Monday.  That would mean I could do less later in the week, like a mini-taper. I have a strange feeling that a 1:20 HM might be possible on Sunday.
Monday
I got up (78kg) and looked at the weather radar.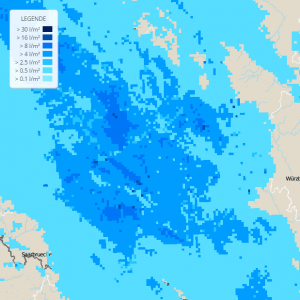 Fair to say, it didn't look good, so I went back to bed. Later on I rode 1h15 on the trainer in aero, then went to TBB a bit later. It was a bit full but I could still get in my swim.  I did:
450m in, 6x(2x50m) drills, 3x150m kicking, 100m flippers breast, 100m flippers, 5x200m arms, 100m easy, 200m out. 3000m ish
Tuesday
I was feeling pretty tired when I set off on my run, so I decided in advance not to do the intervals (6x3m). I ran really easy for 1h15, but the pace actually ended up pretty good anyway at 4:45/km. My HR was only 132bpm though.
Wednesday
I decided to get up at 6am and get my 45min run done (76.7kg). It was a bit of a slog. People often say that you have stomach problems when running if you have eaten shortly beforehand, well I hadn't eaten in 11 hours, but my guts were dreadful. I ran 9km in 47min (I just noticed that for the first 6.5mins my HR belt was off, so actually my HR average was probably just 121-2bpm.)
After work I ate, then went out for a ride. It should have been on my TT bike, but I haven't got everything set up for that yet, so I just rode the road bike. It was a good ride, if a little short. I did 1h17 including a couple of good strava segments.
Thursday
76.1kg Long swim day today. I woke up with a whatsapp message asking us to go to training as there would be a 'test'. It was a 1000m TT. 6 weeks ago I swam 17:23 and was very happy, but this time I wanted to go sub17.
I fancied that I would be the fastest in the lane, so swam in 1st. I got caught in a bit of traffic and had no one to swim behind, but swam 16:55. It isn't a huge improvement, but not bad either. I think that I could swim in the faster lane behind someone and do nearer 16 minutes.  Importantly for the season, I was faster than Robert.
400m in, 500m arms (300m crawl, 200m back) 8x50m drills, 1000m TT, 200m easy, 3x300m flippers, 100m out. 3500m
Friday
I did another pre-breakfast run. It was almost the complete opposite of Tuesday, no stops, felt good throughout and ran an ok pace.  9.5km in 47 minutes.
In the evening I finalls got out on my TT bike. It was a loud experience, but not bad. I rode for 90m at 31km/h including some of the TT course from next week.  It turned out that I had my chain running wrong through the rear pullies, so it was rubbing on metal constants, hence the noise.
Saturday
I had a lot on on Saturday.  I rode my MTB for 1h to start off, nothing special just a few local trails and paths.  After that I did the house duties, then went to swim.  I followed a Tower26 plan, but shortened as it would be 3900m otherwise!  I think I did 3000m in 1h05.  2 bitches got in my lane near the end and tried swimming next to each other blocking the whole lane!
I met out couchsurfer and then signed on for the Half Marathon before meeting everyone else.  Raoul had already run, and I didn't really have any time, so I missed my planned 30m easy run.
Sunday
Woke up at 6am and was 75.5kg! That is before my big breakfast of omelette and porridge.
Ran the Mainz Half Marathon, and regretted the big breakfast, though I think it had more to do with the veggies from last night.  It rained all day, and we had guests, so I didn't cycle my 1h30 to finish the week, meaning that this is the first week that I finish under target with 14h
Overview
It was a bit of an aggravating week.  On Monday I had planned to get some extra time in, but it rained all day.  I played catch up all week, almost got back on plan on Saturday, then it rained all day on Sunday leaving my behind.
I have collected a few extra hours in the last few weeks, so I am not too worried.  My weight is great, 75kg looks very likely in the next few weeks. I am feeling quite fresh today (the Monday after). I have sore calves, but otherwise I am fine and should be good for a strong coming week.