It's been a while since my last race hasn't it! My dad visited 2 weeks ago, then my uncle and cousins last weekend, but this weekend is back to normal and I could try my hand at the Mörfelden Adventslauf 10km.
The run up to Mörfelden
I feel/felt like my form is great at the moment. I kicked up to just under 100km a week of running a few weeks ago, as well as doing some quality and a long run per week. The last 2 weeks have been, shall we say, a little more relaxed. Not much quality, more days off and no long runs. It's fine, as Paris marathon is still a loooong way away, but I think my form may have slightly dipped.
Running or clubbing?
Anyway to Mörfelden. I cycled to the train station where a night club was still playing music at 07:30! Kid today eh? I got my 2 trains, then cycled to the Waldstadion, getting pretty lost on the way. I was still there at 08:50 for a 09:30 start, so all was fine.
It was cold, but dry. I decided to do my warm up in my Nike Zoom Flys to see if the ground would be hard enough for them, it seemed okay, so I stuck with them for the race. At the start line I didn't recognise a soul, that usually means that no one crazily fast is there. I started quite fancying my chances for a win, something I hadn't really considered until then.
No chance for the win!
At 09:29 along came Demeke Wosene and I knew I wouldn't be winning the race. He is the guy who won the half in Mörfelden in 1:09 earlier in the year!  So the race started, it wasn't well explained, but we had to run 900m on the track before heading into the forest.  Demeke didn't know this but everyone shouted at him to stay on the track, so he kept on course. I was straight into 2nd place, but never anywhere near him.
After 700m I was lapping the slowest runners and they weren't moving over to give me space either. I was happy to get into the forest and settle into the race.  It was fairly unspectacular all told. My heart rate belt wasn't working, so showed 180bpm+ all the time. I was slightly worried to see that after 1.5km, but realised it must be wrong after 3km, I would be dead by then at that heart rate!
Running alone
After 5km I hit the lap button. I had decided that if I was slower than 18:30 I would shut it down and run a bit easier (I almost certainly wouldn't have, but I make that sort of deal with myself sometimes!). I saw 18:09 and was a little disappointed, I wanted a sub18, but it was okay still.
3rd place was never far behind me, but after about 7km it seemed like the elastic broke and he was gone. It was all a little painful, without being too bad. I think if I'd had a group to run with that I could have done a bit more. After 9km I knew it was nearly over and I just had a few slightly slippy bits left to cover.
Watching my PB time tick away
I came into the stadium and did the last 300m at a fairly relaxed pace, at least I didn't sprint it in. Demeke was already warming down, so I congratulated him before even crossing the line. In retrospect I don't know why I wasn't sprinting it in. I saw my PB tick away as I crossed the line in 36:27 for 2nd place, 3 seconds off my best.
Warm up and congratulate other finishers
My face was pretty numb from the cold, but after a warm tea, I was ready to congratulate the other finishers as they crossed the finish line. My personal favourite was the guy finishing in 39:49 who was ecstatic with breaking 40 minutes for the first time. I remember that being me a few years ago and I was happy for him.
Home through the snow
It started snowing heavily immediately after the race, so my ride back to Rüsselsheim was interesting to say the least. It looked worse than it was, I wish I'd had some glasses with me though!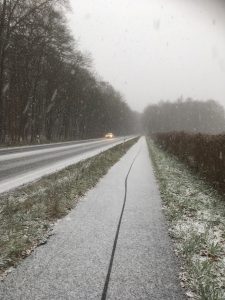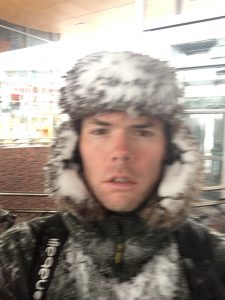 Next up
So next up is one of my favourites: the Ebersheimer Adventslauf. I'll be sticking to the course this time! I am looking forward to it, I just hope it dries out a bit beforehand, otherwise it's be a slippy one.