The 2nd race of the season was in Baumholder. Where I hear you ask? Yes, Baumholder, it's about 15km south of Ider-Oberstein. If you have to orient yourself using Ider-Oberstein, then you are in the middle of nowhere, and so it was in Baumholder.
It's actually a nice little town and it works very well for a triathlon, as there is the lake which is just about big enough for a sprint tri, a hilly bike route and the run around the lake.
We arrived nice and early and were all ready to start. The team that started in Hachenberg was decimated, with only Peter starting for the 1st team again. Timo was subbed in, along with Robert, Stephan Schweiger and me.
The 2nd team were all between 16-18 years old. That's not normally a problem in a sprint, but today the bike course was 26.5km long. They announce 45 minutes before the race that no one under 18 years old could compete, as it is too long. All in all 11 kids couldn't start, someone from another team even cried!
As a compromise, the organisers shortened the bike course to 20km (22km actually) so that everyone could start.
They also changed the advertised swim. It was going to be 600m, but advertised at 750m, they added a short out an back to make it a bit longer than 750m and a real boxing match at the start.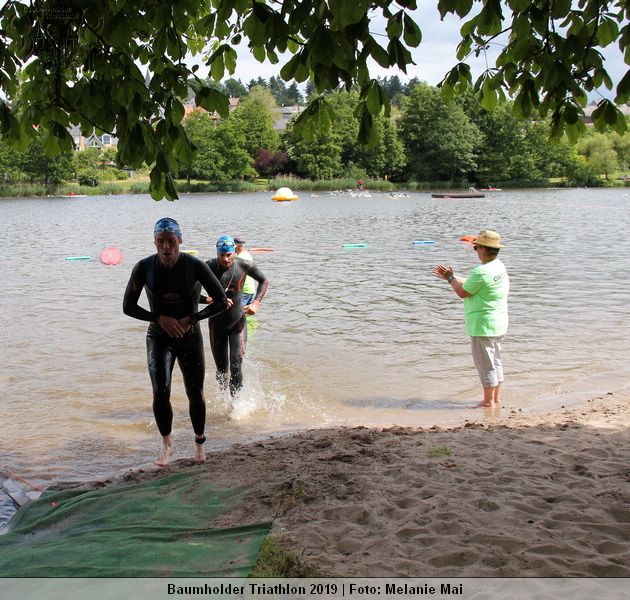 So we started. It was really aggressive, I was hit and kicked and people were swimming all over the place, even with only 45 starters. After 200m it got much better and we had to swim once around the lake in an anti-clockwise direction. Sighting was difficult as they had different colour buoys. There was also an almost invisible rope that we had to swim around to get to the exit, I didn't know it was there so it cost some time.
But the swim was over and I was just ahead of Robert, with Peter and Timo being miles ahead of me as expected. I took my road bike as I wasn't sure what the best choice would be. It was advertised as 410hm over 26.5km. That's hilly! It was also raining on the way to the race, so I wanted the disc brakes, even though it actually dried out completely before we started.
I rode ok, but think I made the wrong bike choice. I was overtaken by a good few people, especially on the flats/downhills. Robert came passed me after maybe 12km, but I managed to stay with him, even overtaking him on an uphill, only be overtaken again on the next downhill.
We got into T2 together, so I followed Robert. He ran into the wrong row of bikes though, so I did too. I decided to dip under the bike hanger and get my shoes, but the ref saw me and told me to go back out and around, that cost me quite a bit of time.
I set off on the run maybe 20 seconds behind Robert. He seemed to be keeping the gap pretty steady to me, but after 1.5km the elastic snapped and I caught him quite quickly. I passed him near the end of lap 1 and could extend my lead over the next lap.
At the very end, my guts started to feel really bad, but luckily it was only a 4km run, and I was done before it got bad. I crossed the line as 3rd in our team and 19th in the league, nothing great, but ok.
Overall I was satisfied with my day, my swim kind of sucked and I think if I had been on my TT bike I would have been faster, but who knows!