I had dreams of grandeur going into this one but it ended up being my worst race ever!
Zell am Mosel is a lovely little town, very picturesque and normally a good race too. We would swim in the Mosel with the flow of the river, so it was 2km swim instead of the normal 1.5km in an Olympic triathlon. The river was really slow though, I reckon it was more like a 1.8km swim, which doesn't exactly play to my strengths!
This week the team was completely different again. Michael was back and Heiko B and Stephan J were filling in the 1st team, with me and Robert starting again.
After a walk along the river to the start, the race was finally underway with a mass start. The river is fairly wide, so it wasn't aggressive like last week. I felt like I was swimming well at the start, but I realised that I was probably too far to the side, whereas the fastest stream is in the middle.
After what felt like an age, I saw the sprint start to my side, so we still had 700m to swim, damn! It all went ok though, and I was 2nd out of the water in TCEC, well behind Michael, with Heiko B and well ahead of the others.
In winter I messed around with my bike, I angled the tri-bars up so that I could get my head lower. It is really uncomfortable for me though, but I have been trying to get used to it. I set off on the bike in Zell but after 1km I was already out of aero and riding on the top-bar.
Heiko passed me, which isn't normally the case. Then when we hit the hill, which was a bit of a beast, Mt Barlo, Stephan S came past me like I was standing still! I tried to take it easy, an Olympic is much tougher than a sprint and I could catch him later on the run.
Finally, I was on the descent and back on the flat, but that was only lap 1 of 2. On the 2nd lap, I caught Heiko again before the hill, but Robert and Uli caught me, that means they were way, way faster on the bike than me.
After the bike was finally over, I decided to put on socks and really go for the run. I was confident of catching everyone but Michael on the run. I set off and almost immediately was paralysed. I had a really bad stitch and couldn't breathe. After 400 slow metres, I thought I should walk and try to let it pass.
It didn't pass. I jogged slowly and it hurt like hell. I jogged very slowly and it was still dreadful. I knew I couldn't run at all, so I would have to walk and make sure that we had 4 finishers. I hadn't seen Stephan J at all and even after walking for a long time, I still hadn't seen him. I knew that if he had dropped out, I needed to finish no matter what, even if it meant walking 9km.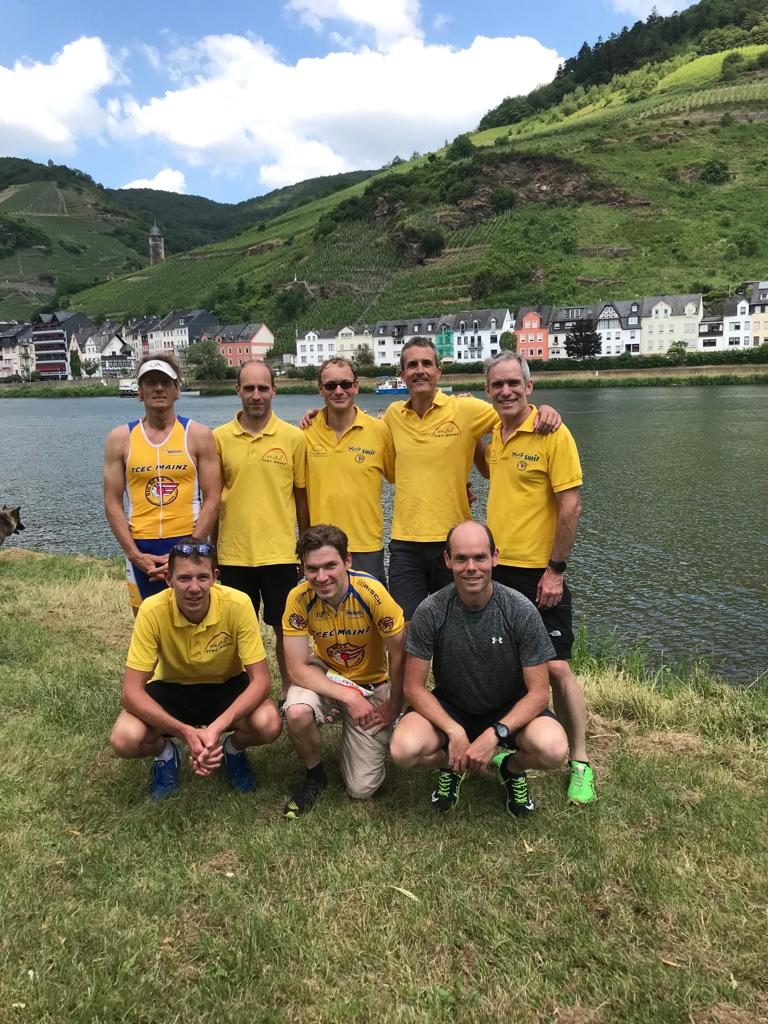 Luckily Stefan was still in the race and passed me after about 2km. I walked to the end of the first lap and dropped out. It's my first ever DNF and not something I am proud of at all. I feel like I let down the team, even if I had run well, it wouldn't have been a good race, but this was just a nightmare.
As soon as I got home, I started to change the set up of my bike back to being a flat bar, as it used to be. I just can't stay in aero with my arms in a slight praying mantis position, so it had to go asap.